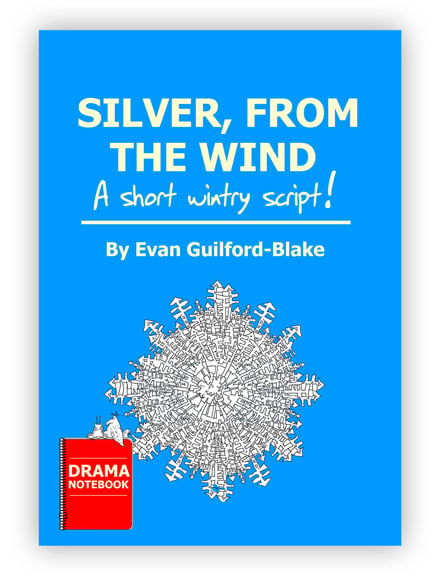 6-15 characters. 6 pages long. Approximately ten minutes running time. A story-telling play for children adapted from his original winter tale by award-winning playwright, Evan Guilford-Blake.
Silver from the Wind is a tale of wishes. A young child and a special snowflake have the same dream: keeping the special snowflake forever — and how the North Wind makes that possible. The play has been staged twice as of publication on Drama Notebook. Audience interactive.
Evan Guilford-Blake is an award-winning playwright who has graciously granted Drama Notebook a license to make a small collection of his plays available to teachers through the site. Your students will love performing his clever, imaginative pieces!
Excerpt from the play:
CAST LIST:
FIRST NARRATOR [m or f]
SECOND NARRATOR [m or f]
PATRICK, a young boy OR TRISHA, a young girl (The text indicates the appropriate changes. Use the applicable pronoun.)
THE SNOWFLAKE [f]
THE NORTH WIND [m] (His lines are noted as "miked from off." They may, however, be spoken from a defined area on the stage, without a mike)
THE CHILD'S MOTHER
THE CHILD'S FATHER
If the production chooses, more SNOWFLAKES may be used and a dance number to bridge THE SNOWFLAKE's transition may be incorporated with them.
The roles of the Father and the North Wind may be combined. The two Narrators may be combined into a single role.
SET AND COSTUMES:
Only the snow castle, the Christmas tree and a "silver" snowflake are essential pieces. Costumes can be extremely simple: Suggestions, such as a mittens, are perfectly adequate.
THE INTRODUCTION is optional. Its use is suggested with audiences of very young children, or if the play is to be staged using no set or costumes.
Optional Introduction
NARRATOR 1
Hello. I'm [ACTOR'S NAME].
NARRATOR 2
And I'm [ACTOR'S NAME].
NARRATOR 1
We're your narrators, which means we're going to help tell you the story of the play.
NARRATOR 2
Does everyone know what a "play" is?
          (Interface with audience.)
NARRATOR 1
That's right: A play is a story that you watch, where people called "Actors" pretend to be the people in the play, called "Characters."
NARRATOR 2
It's like you've seen on television, except that this story is going to happen right here. Isn't that exciting?
         (Interface with audience)
NARRATOR 1
Now, this is a story about a young boy/girl…
NARRATOR 2
And — a very special snowflake.
NARRATOR 1
That takes places — at Christmas.
NARRATOR 2
All right now. Are you ready? Good; then imagine it's…
NARRATOR 1
the last few days before Christmas.
NARRATOR 2
And it's cold outside
NARRATOR 1
And there's snow everywhere!       
NARRATOR 2
Can you do that?
          (Interface with audience.);
NARRATOR 1
Good!
Silver, from the Wind
A story-telling play for children
by Evan Guilford-Blake
NARRATOR 1
Once upon a time, there was a little snowflake,
          (SNOWFLAKE dances on.)
who loved being a snowflake, for she was indeed beautiful, with six lace-fine points that grew like carved jeweled fingertips from her delicately curved center.
NARRATOR 2
Now, as you've surely seen, when snowflakes fall they land one on top of the next, on top of the next, and the next
NARRATOR 1
until there are hundreds
NARRATOR 2
and thousands of them in large, fluffy piles
NARRATOR 1
which you and I can roll into snowmen, or snowballs,
(BOY/GIRL enters and works on a snow  castle.)
NARRATOR 2
or — snow castles, with thick white walls and tall rounded turrets that shine in the winter sun;
NARRATOR 1
but then, they melt and disappear into the earth and are gone forever.
NARRATOR 2
And this particular snowflake didn't want to disappear forever,
NARRATOR 1
so she had whirled and danced upon the wind, through the sky, for one winter, then another, and another
NARRATOR 2
until finally many winters had passed and still the snowflake fluttered through the frosted air, looking down upon the earth far, far below.
NORTH WIND
          (Miked; throughout, from OFF)
Little snowflake:
SNOWFLAKE
Yes, Father North Wind?
NORTH WIND
You have spun and floated through my sky for too long. Tomorrow is Christmas, and it's time you too fell to earth as all snowflakes must.
SNOWFLAKE
It is lovely there. If only I could stay, I would gladly fall at once; if only I would not disappear so quickly, but remain winter after winter and be part of each one.
NORTH WIND
Look. There's a boy/girl waiting for you. S/He is shaping a snow castle; you will be part of his/her winter, at the peak of its tallest turret.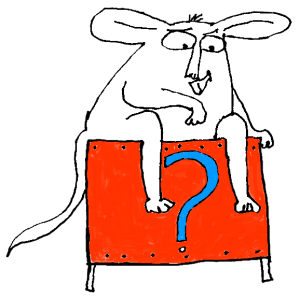 Inside Drama Notebook, you will find a huge collection of well-organized lesson plans, scripts for kids, drama activities, 50 drama games on video and more! Join today and dramatically reduce your planning time while delivering fresh, innovative drama lessons to your students!
If you are new to teaching drama, this site will be a Godsend!
You will immediately feel confident about teaching drama like an expert. The site guides you step-by-step and provides you with materials that you can use right away with your students.
If you have been teaching for years, Drama Notebook will inspire you with a fresh new approach and innovative ideas!
The site is packed with original, innovative lessons and activities that you will not find anywhere else—and new materials are added monthly.