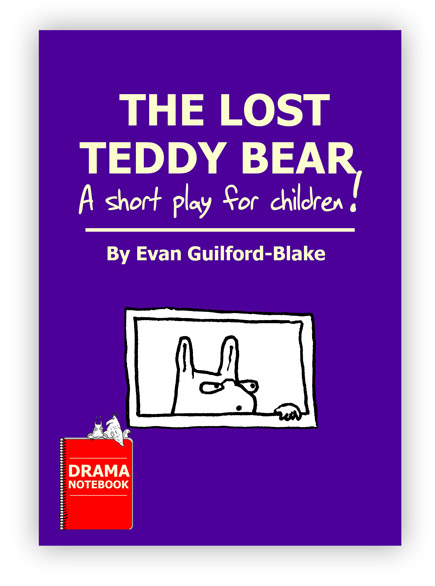 3 characters (flexible casting). 4 pages, approximately six minutes running time. A short play for children by Evan Guilford-Blake.
In this brief play for small children, three young siblings (3f, 3m, or 2/1) search for a teddy bear one of them has "lost." Staged once. There are three printable versions of this script that are all basically the same, but they have been adapted to accommodate casts of varying genders. This is an easy-to-perform play for young actors. Great for beginning script work!
Evan Guilford-Blake is an award-winning playwright who has graciously granted Drama Notebook a license to make a small collection of his plays available to teachers through the site. Your students will love performing his clever, imaginative pieces!
Excerpt from the play:
The Lost Teddy Bear
A short play for children
by Evan Guilford-Blake
CHARACTERS (Any gender.)
PAT – 10 years old. Kelly's and Alex's older sibling.
KELLY – 8 years old; Alex's twin
ALEX – 8 years old; Kelly's twin
TIME: Yesterday after school
PLACE: A bedroom shared by two of the children. It has two beds, a desk, at least two chairs and a closet. The closet door may be suggested rather than actual.
SYNOPSIS: A child "loses" his/her new Teddy Bear and enlists her siblings' help in finding it.
AT RISE: KELLY is on the floor, looking for something. PAT enters.
PAT:
What are you looking for, Kelly?
KELLY:
My new stuffed bear.
PAT:
Did you look in the closet?
KELLY:
Yes! And under my bed.
PAT:
How about under the other one?
KELLY:
Yeah, Pat. I can't find it!
PAT:
Well, it has to be here somewhere, unless you — Did you take it downstairs?
KELLY:
I don't think so.
PAT:
Sometimes you do. When you're watching TV.
KELLY:
But I haven't watched TV today.
PAT:
I'll help you look. But maybe we can figure out where you left it.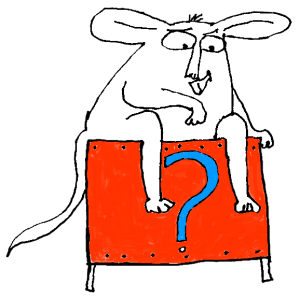 Inside Drama Notebook, you will find a huge collection of well-organized lesson plans, scripts for kids, drama activities, 50 drama games on video and more! Join today and dramatically reduce your planning time while delivering fresh, innovative drama lessons to your students!
If you are new to teaching drama, this site will be a Godsend!
You will immediately feel confident about teaching drama like an expert. The site guides you step-by-step and provides you with materials that you can use right away with your students.
If you have been teaching for years, Drama Notebook will inspire you with a fresh new approach and innovative ideas!
The site is packed with original, innovative lessons and activities that you will not find anywhere else—and new materials are added monthly.