Meet Jennifer:
"I help teachers tap into their creative abilities so they can teach drama with joy and confidence. I am honored to share what I have learned on my own journey to inspire others. My offerings include individual mentoring, artist in residence, and professional development workshops."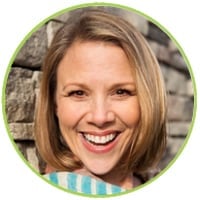 Jennifer's Bio:
Jennifer has been teaching, directing, and performing, around the Pacific Northwest for decades. She created Clay and Play, an inclusive outdoor summer arts program, served as Education Director for Studio East, Training for the Performing Arts, co-founded SecondStory Repertory Theatre, and has led drama programs for both public and private schools. She is a member of TPS (Theatre Puget Sound), AATE (American Alliance for Theatre and Education) and loves sharing her creative energy with other drama teachers. She holds her BA in Theatre from Morningside College, and also studied at Oxford University in England. Her time with The Children's Theatre Company in Minneapolis filled her with a life-long passion for working and playing with young people. Her shelves are lined with children's books and her happy place is in the woods. Jennifer has several theatre credits to her name, but her favorite roles of all-time are "Mom" to her adventurous kids and "Wife" to her theatre musician husband.
Kind Words about Jennifer:
"She has arranged the chairs to that everyone has a seat in the van. By the time they are ready to begin their trip, all the passengers are fully engaged, so she takes her place behind the wheel. There are choices to be made, things to see, and relationships to form; all suggestions are heard. Something unfurls. With skill and passion, she shapes and energizes, conducting a balance between chaos, focus, inclusion, and storyline. She is a master." Colleen C.S.-Music Teacher
"Jennifer has an energy and light that lifts others up and ignites joy! I have taken several BrainDance classes with her and I always leave feeling energized and informed. She encourages all levels and abilities to stretch, move and be present in the moment. If you need to be activated to move or inspired to learn about your body, Jennifer makes every experience with her fun and collaborative! Margaret M.-Student Life Advisor
"My son had never jumped into drama class before this year, and we know it's because of your enthusiasm and the supportive community you build. It has been a joy to see our sometimes-anxious child participate in a way that didn't seem possible a year ago." Christina B.-Parent
"Every week this year I have been blown away at the creativity you have brought to drama class. I want you to know how lucky we are to have a teacher who dedicated so much energy to making this year a success." Becky L.-Parent
It's hard to do this kind of work alone! Let's collaborate!
Mentorship
"One-Hour Pep Talk"
Are you terrified of teaching drama for the first time? Jennifer can help you get organized and feel confident so that you look forward to teaching your first class instead of dreading it. She can help you develop an overall plan for the year based on the age range, length of time and number of students you will be teaching. She will direct you to the materials on-and-off Drama Notebook that will be most helpful to you. Save yourself the anxiety of going-it-alone and let this seasoned drama teacher help you teach like a pro from the very first class.
$59.00
"Help Me! Burnout Prevention"
Are you feeling overwhelmed or uninspired? Maybe you are at your wits end? Connect with Jennifer and fall in love with your job again. Whether your lesson plans are falling flat or you are in a pickle with the play you're directing, let Jennifer shine a light on your creativity. Whatever you are struggling with, she will bring years of experience and a suitcase of possibility!
$59.00
"Mentor Package"
Need more than one session? Sign up for three one-hour sessions to be used within six months.
$149.00
How does this work exactly?
The first step is to email Jennifer (jenreifcreative@gmail.com) and let her know what need help with. Together you will schedule a phone or zoom session(s). Once you have set up the meeting, you will pay using this link:
Professional Development Workshops
All workshops will be limited to 20 participants
3 Hours via Zoom
$100.00
*If you'd like to book Jennifer for an in person or Zoom workshop tailored to the needs of your group, send an email to Jennifer
1. Brand New Drama Teachers
Teaching drama is fun, so why am I nervous? This workshop will provide you with a foundation for all you need to get started. Be prepared to learn activities and exercises you will use every day, to discover classroom management techniques that are unique to drama, to explore ways to scaffold your lesson plans, and discuss ways to advocate and build your drama program. You will leave feeling confident and ready to start creating!
2. Teaching Drama to Young Children (Pre-K through Elementary)
Perhaps you've taught drama but are new to working with a younger group. This workshop will remind you how to play like a child. We will fill your basket with activities and exercises children love. We will practice shifting your current teaching methods and lessons to fit whatever age group you are working with. We will offer tactics for classroom management, lesson panning, and relating to these small humans.
3. Drama Camps 101
Drama camp can be so fun and fulfilling! It's also a lot of work. This workshop will inspire and educate you in all the elements necessary for running a successful drama camp. We will cover everything from budgets and registrations to training your staff and planning your production. Whether you are hosting a small group of kids in your back yard or creating a summer-long intensive, we will help you make a careful plan so the fun can happen.
4. Integrate Drama into Any Subject
Drama is a natural and creative way to bridge subject areas. In this workshop you will learn 3 specific methods for weaving drama into any subject. But more than that you will leave with the ability to use those creative tools exponentially.