9+ characters. 3M, 3F, 3+ Either; 4 pages in length. Approximately 1-5 minutes running time. A short, family play for kids and teens by Jasmine Rodgers's Class.
A Trip to the Forest is a short play about a family's trip to a cabin in the forest. When Ollie and her father meet a friendly woodcutter, he teaches them how to find their way around the woods by looking at the markings on the trees. Later, when Ollie gets turned around while chasing butterflies, she'll have to put what she learned to good use and find her way back to the cabin to reunite with her family! A fun, family-oriented play for kids and teens!
Jasmine Rodgers is a full-time performing arts teacher for Berkeley International, an international school in Bangkok, Thailand, where she is an active choreographer and director for both primary and secondary school musicals. She holds a BS in Early Childhood Rehabilitation/Special Education and a MA in Education with a focus on the performing arts with English language learners. This will be her 9th year teaching dance and drama full-time. Jasmine enjoys creating theatrical scripts that her students can easily understand and enjoy performing!
Excerpt from the play:
CAST OF CHARACTERS
NARRATOR 1
NARRATOR 2
OLLIE
DAD
MOM
OLDER SISTER (CATHY)
OLDER BROTHER (KADEN)
DAVE THE WOODCUTTER
TREES
Setting: A cabin
Ollie and her family are arriving at the "Cabin", which is off-stage. A pile of bags is next to them. There is a forest backdrop with forest-like sounds in the background.
NARRATOR 1
Cathy and Kaden were not very excited about the family trip this year.
NARRATOR 2
However, Ollie loved the outdoors. She couldn't wait to explore the forest.
CATHY
We drove four hours for this dump? (Cathy motions towards the cabin.)
OLLIE
I think it looks pretty.
KADEN
It's literally a pile of logs.
DAD
Alright, we didn't come for you to complain, it's a fun family trip. (He picks up some bags.)
MOM
Cathy, Kaden, you can help unpack and make lunch for the picnic.
CATHY
Okay. (She picks up a few bags and walks into the "Cabin" which is off-stage.)
Kaden follows with two bags.
MOM
Cathy will warm up to it in no time. (She follows after Cathy with the leftover bags.)
DAD
Let's hope so. C'mon, Ollie, let's go explore.
OLLIE
Wait. I'll get my notebook and then we can go.
Ollie skips into the "Cabin"; Dad follows. Sound effect of door opening and closing.
NARRATOR 1
Ollie grabbed her hat, pencil, and a notebook, and followed her dad into the woods.
Ollie and her Dad come back out; her dad now has a hat on and carries a bag. Ollie has a notebook and pencil and a small bag. They start walking through the "forest" (in a circle) past the trees.
NARRATOR 2
After they had walked for a while, Dad drew a mysterious red circle on a tree.
Dad draws a red circle on a tree.
OLLIE
What are you doing?
DAD
I'm making a temporary path, like in Hansel and Gretel.
OLLIE
Hansel and Gretel? Who are they?
DAD
It's a long story, but they pretty much were able to get out of a forest by placing white stones on the floor and following them home. (He gives her some of the red paint)
OLLIE
Oh, cool. (She puts the red objects in her bag and writes it in her notebook)
Why Subscribe?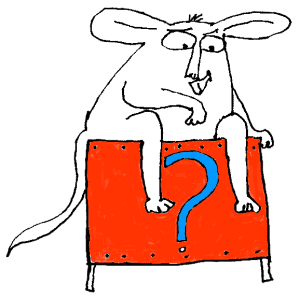 Inside Drama Notebook, you will find a huge collection of well-organized lesson plans, scripts for kids, drama activities, 50 drama games on video and more! Join today and dramatically reduce your planning time while delivering fresh, innovative drama lessons to your students! If you are new to teaching drama, this site will be a Godsend! You will immediately feel confident about teaching drama like an expert. The site guides you step-by-step and provides you with materials that you can use right away with your students.
If you have been teaching for years, Drama Notebook will inspire you with a fresh new approach and innovative ideas!
The site is packed with original, innovative lessons and activities that you will not find anywhere else—and new materials are added monthly.