14 characters; 4M, 5F; 5 Either; Flexible casting; 18 pages in length. Approximately 20 minutes running time. A fairy tale comedy written by Vicki Riba Koestler.
A Walk Before Breakfast is a comedy with all your favorite fairy tale characters! Papa Bear thinks his middle-school-aged son has "an attitude." Worse, he considers him lazy and uninterested in learning. But when the Bear family takes a walk in the woods, the bear formerly known as Baby Bear offers assistance to several storybook characters along the way and Papa Bear has to revise his opinion. A hilarious comedy for kids and teens!
Vicki Riba Koestler has produced several plays including the full-lengths We Gather Together and Epsilon Precious (The Play About the Cat) and the one-acts Googling Fin, Snedekker's, Bad Move, Minna Kwasnik's Stupid Blouse, That Time at Black Lake, and In the Gardens of Eden. Several other of her plays have had staged readings and were placed in competitions. Her short play Orange Sunset was published in the volume Stage This! Too. Vicki's personal essays have appeared in The New York Times, Child magazine, New Jersey Monthly, and The Record of Northern New Jersey, among other places. She has also co-authored two books with self-help author Gary Null: Choosing Joy and The Baby Boomer's Guide to Getting it Right the Second Time Around. A native of New York City, Vicki now lives in Alexandria, Virginia.
Excerpt from the play:
CAST OF CHARACTERS
BABY BEAR—he isn't actually a baby, but a somewhat awkward pre-teen
PAPA BEAR
MAMA BEAR
SNOW WHITE
SLEEPING BEAUTY
PRINCE PLEASANT
HAPPY, a Dwarf (the dwarves may be played by boys or girls)
SLEEPY, a Dwarf
DOPEY, a Dwarf
SNEEZY, a Dwarf
BASHFUL, a Dwarf
GRETEL
HANSEL
GOLDILOCKS
A beautiful morning in beautiful woods. There's a winding trail and perhaps a few rocks to sit on. Birds tweet sweetly as MAMA BEAR and PAPA BEAR enjoy a walk down the trail. BABY BEAR is with them, but he's bored.
BABY BEAR
Can we go home now?
PAPA BEAR
Why would you want to go home? We've been walking all of five minutes.
BABY BEAR
That's why.
MAMA BEAR
Surely you can walk for more than five minutes, Baby Bear.
PAPA BEAR
Yeah—man up!
BABY BEAR
Bear up. We're bears.
PAPA BEAR
Don't be a wise guy.
(ALL walk on for a few seconds)
BABY BEAR
This is lame.
PAPA BEAR
Hey! Never say that! Don't you know that lameness is a sign of extreme vulnerability in a wild animal? It's nothing to make light of. You'd better watch your mouth.
BABY BEAR
Whatev.
MAMA BEAR
(cheery, looking to make peace) All I know is—I think it's great to get out of the house, into the fresh air. I hate that cooped-up feeling.
BABY BEAR
It didn't seem to bother you the six months we were hibernating.
PAPA BEAR
Don't be snarky to your mother. And by the way, bears don't do snark.
BABY BEAR
What do bears do?
PAPA BEAR
Shock and awe.
(BABY BEAR attempts to shock and awe MAMA BEAR with a growl and a display of claws)
PAPA BEAR
But not directed at your own mama! Where is your brain, Baby Bear?
BABY BEAR
In my head, which will soon be on an analyst's couch cause of all the damage you've done to it by giving me that stupid name! Baby Bear! I'm practically a teenager!
MAMA BEAR
I guess we just got carried away when you were born—you were so cute! A fuzzy wuzzy, cutie tootie, little baby teddy—
BABY BEAR
(mortified, overlapping previous line) No! Make it stop!
MAMA BEAR
Well, you were cute, Baby. (to PAPA BEAR—) And he still is, isn't he, Papa Bear?
PAPA BEAR
Yeah, but now he's got an attitude.
BABY BEAR
I can't help it if I don't want to go on this dumb walk.
PAPA BEAR
Well, you're going on it, so deal. A walk is good exercise. Besides, we had to let the porridge cool.
BABY BEAR
(sotto voce) I hate porridge.
PAPA BEAR
What did you say?
BABY BEAR
I hate porridge. It's lumpy and yucky. All the other cubs get to eat cornflakes and Honey Nut Cheerios.
PAPA BEAR
If all the other cubs jumped off the Brooklyn Bridge, would you do that too?
BABY BEAR
Probably. (Pause) What's the Brooklyn Bridge?
PAPA BEAR
(dismissive) Oh, it's like a beaver dam… only higher… and with traffic.
MAMA BEAR
Never mind all that. Let's just enjoy this beautiful morning.
BABY BEAR
(dramatically enjoys sunshine for a nanosecond) Okay, did it. Can I go home now?
PAPA BEAR
Cut the backtalk and walk.
BABY BEAR
Okay, okay. Chillax.
(BABY BEAR puts earbuds connected to a music source into his ears and bops as ALL continue walking)
MAMA BEAR
(stopping, suddenly dismayed) Oh my gosh.
PAPA BEAR
What.
MAMA BEAR
I don't remember if I checked the stove before we left.
PAPA BEAR
You did. I saw you. It was after you poured the porridge into the three bowls—the great big bowl, the medium-sized bowl, and the wee little bowl. And after you set the spoons beside them—the great big spoon, the medium spoon, and the wee little spoon. We decided to go out, and that's when you checked the stove. On the way out, I locked the door—so you don't have to worry about that either.
MAMA BEAR
Oh good… and the windows? You locked the windows too?
PAPA BEAR
Nope—left them open, for the air. But I don't think there's anything to worry about, Mama Bear.
MAMA BEAR
Well, I hope not. It's just that I heard this thing on the news… something about a burglar who's been active in this part of the woods.
BABY BEAR
(intrigued, taking out his earbuds) A burglar? Around here?
MAMA BEAR
Yes… they said it was a female… blond…
PAPA BEAR
What species?
MAMA BEAR
I didn't catch that.
BABY BEAR
Well, blond—couldn't be a bear.
PAPA BEAR
Unless it's a polar bear.
BABY BEAR
(snorts) Yeah, right. There's a whole lotta snow around here.
PAPA BEAR
Enough with the snark!
BABY BEAR
Maybe it's an albino squirrel… or maybe a skunk—they have those blond streaks. (happy) Maybe she's breaking into our house right now and smelling up the whole place!
(MAMA BEAR and PAPA BEAR look askance at BABY BEAR)
BABY BEAR
Or at least stealing the porridge… then we could eat cornflakes or Honey Nut—
MAMA BEAR
Well, that's the strange thing. They said this burglar doesn't actually steal anything from the places she breaks into. She just tries out different pieces of furniture and different foods and then criticizes them. "Too hot," "too cold," "too big," "too small," "too hard," "too soft," that sort of thing.
Why Subscribe?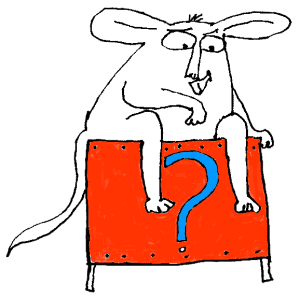 Inside Drama Notebook, you will find a huge collection of well-organized lesson plans, scripts for kids, drama activities, 50 drama games on video and more! Join today and dramatically reduce your planning time while delivering fresh, innovative drama lessons to your students! If you are new to teaching drama, this site will be a Godsend! You will immediately feel confident about teaching drama like an expert. The site guides you step-by-step and provides you with materials that you can use right away with your students.
If you have been teaching for years, Drama Notebook will inspire you with a fresh new approach and innovative ideas!
The site is packed with original, innovative lessons and activities that you will not find anywhere else—and new materials are added monthly.