11-20 characters, flexible casting. Approximately 10 minutes long. Ages 8-11. Two bored girls get more than they bargained for at a magic shop.
Ethel and Gertrude are bored. Their mother gives them some money to get them out of her hair. The girls head down to the local magic shop and purchase some magic pork chops. They follow the instructions and the chops turn into vampire pigs. Comedy ensues as the vampire pigs fly throughout the town wreaking havoc.
Bob Johnson wrote "The Attack of the Vampire Pigs" when he was "Drama Bob" at St. Alban's Summer Programs in Washington, D.C. He asked the kids enrolled in his class what kind of play they wanted to perform at the end of the summer session. For whatever reason, they wanted to perform in a play about vampire pigs. Bob is a member of The Recording Academy, co-producer of the Parents' Choice Gold Award-winning recording, Princess Revolution! by Moey's Music Party, and associate producer of the off-Broadway hit Cougar the Musical. Honors and awards include winning the Jim Henson Award for Projects Related to Puppetry, an artistic achievement citation from the Kennedy Center/American College Theatre Festival, and New York Press's "Best Straight-Faced Cover Story Interview with Joan Rivers."
Excerpt from the play:
CHARACTERS (In order of appearance)
NARRATOR 1
NARRATOR 2
ETHEL: young girl; sister to Gertrude
GERTRUDE: young girl; sister to Ethel
MYRTLE: Ethel's and Gertrude's mother
SALES PERSON: works at the magic shop
CANDY TROUT: newscaster
PIG LEADER: leader of the vampire pigs
VAMPIRE PIGS: as many as needed
SCENE 1-AT HOME
NARRATOR 1
Once upon a time, there lived two sisters named Ethel and Gertrude.
ETHEL
Hi, I'm Ethel.
GERTRUDE
And I'm Gertrude.
NARRATOR 2
One summer, Ethel and Gertrude driving their mother Myrtle crazy because they were really bored.
ETHEL
Mother, we have nothing to do.
GERTRUDE
Yeah. We're bored.
MYRTLE
Well. Why don't you sew?
ETHEL
Boring.
MYRTLE
Knit?
GERTRUDE
Boring.
MYRTLE
Needlepoint?
GERTRUDE
Boring.
MYRTLE
Ethel and Gertrude! I'm tired of listening to you say that you're bored. What would it take to keep you from being bored?
ETHEL
Five bucks.
GERTRUDE
Yeah, five bucks.
MYRTLE
Well. Alright. But only because I have a lot of vacuuming to do.
ETHEL
Thank you, mother.
SCENE 2-THE MAGIC STORE
NARRATOR 2
Ethel and Gertrude took the five bucks from their mother and went down to the corner store to buy some candy.
NARRATOR 1
But, to their surprise, the corner store had gone out of business and a magic store had opened in its place.
ETHEL
Wow! A real live magic store.
GERTRUDE
Totally awesome! Let's buy something magic and turn mom into a toad!
Why Subscribe?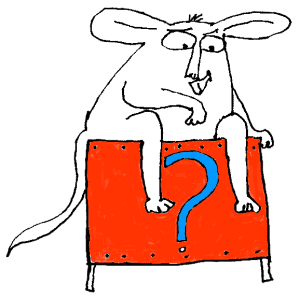 Inside Drama Notebook, you will find a huge collection of well-organized lesson plans, scripts for kids, drama activities, 50 drama games on video and more! Join today and dramatically reduce your planning time while delivering fresh, innovative drama lessons to your students! If you are new to teaching drama, this site will be a Godsend! You will immediately feel confident about teaching drama like an expert. The site guides you step-by-step and provides you with materials that you can use right away with your students.
If you have been teaching for years, Drama Notebook will inspire you with a fresh new approach and innovative ideas!
The site is packed with original, innovative lessons and activities that you will not find anywhere else—and new materials are added monthly.