9 characters. 40 pages in length. Approximately 30-45 minutes running time. A play for older teens written by Richard Broadhurst. (5 credits)
Barnyard is the story of a group of barnyard animals who are forced to deal with an overbearing pig, who happens to be a bully. The idea is loosely based on "Animal Farm" (the pig's name is Orwell). This very relevant play deals with the harsh realities of bullying and discrimination and may not be appropriate for younger audiences. An excellent play to open up a discussion with students on these topics.
Richard Broadhurst's plays have been produced all over the country–including New York, Los Angeles, Minneapolis, and Sacramento. In addition, Richard has been a guest playwright at the prestigious William Inge Theatre Festival, as well as a finalist at the Eugene O'Neill Theatre Conference. Richard is also a screenwriter and has worked with a diverse group of actors–Ed Asner, Noah Wyle, and Jason Alexander, to name a few. Richard is a member of the Dramatists Guild of America, as well as all of the Actors' Unions.
Excerpt from the play:
CAST OF CHARACTERS
MATTHEW: a chicken BAA BAA: a black sheep
BETTY: one of two blind mice
BERTHA: one of two blind mice
FAT CAT: a cat
HOOT: an owl
ORWELL: a pig
MOLLY: a donkey
RUNYON: a small dog
Set: The only set pieces might be a few platforms, but they are not necessary. All of the "animals" in the piece should NOT wear elaborate costumes. Every animal should be depicted using some sort of representational makeup or costume accessory. As an example, THE PIG may only have a "snout." THE MULE may only have two long ears.
Lights should be at half as two characters enter carrying a large burlap bag. There's an object in the bag. The characters carrying the bag should be dressed entirely in black. The two characters struggle with the bag and eventually drop it center stage and run off. One of the two characters returns and kicks at the bag. No noise comes from inside the bag, but something does move. After kicking the bag, the character runs off.
MATTHEW (a chicken) enters from stage right. As Matthew passes the bag, he notices the bag move and stops. He crosses to the bag and pokes it several times. The bag moves slightly, but still, no sound comes from the bag. Matthew jumps back when the bag moves.
MATTHEW
What on earth?
BAA BAA, a black sheep, enters from stage left. Baa Baa sees Matthew jump as the bag moves.
BAA BAA
Watch out, Little. The bag could bite.
MATTHEW
I've told you NOT to call me Little. My name is Matthew. (He points to the bag.) There's something in the bag… alive. It moved.
BAA BAA
Sure. Right.
MATTHEW
You don't believe me, check it out yourself.
BAA BAA
This routine of yours is growing tiresome. You seem to be afraid of everything–including your own shadow.
MATTHEW
I'm telling the truth.
Baa Baa studies Matthew for a moment, then looks to the bag as something moves inside the bag.
MATTHEW (cont.)
(re: the bag) There! Right there! I KNOW you saw it that time.
Baa Baa moves toward the bag, carefully.
BAA BAA
I'm sure it's harmless… whatever it is.
MATTHEW
We have to do something before Orwell shows up.
BAA BAA
There's nothing we can do.
MATTHEW
We can get rid of the bag. Dump it somewhere.
BAA BAA
Just where would we dump it?
MATTHEW
I… I don't know.
BAA BAA
If there's something alive, in the bag… perhaps we should help.
MATTHEW
We're going to be the ones in need of help. We have to worry about Orwell. He doesn't like things out of order. He expects everything to be kept nice and tidy.
BAA BAA
An odd expectation for someone who spends most of their time wallowing around in the mud.
Whatever is in the bag, moves again.
MATTHEW
Look! It moved, again!
Two BLIND MICE (BETTY and BERTHA) enter. Each of them wears sunglasses and they use sticks to guide themselves. When the mice speak, they do so in unison.
BETTY & BERTHA
What's all the commotion about?
MATTHEW
Oh. There's a bag in the middle of the yard.
BETTY & BERTHA
What kind of a bag?
BAA BAA
It looks like an old feedbag. It's alive.
BETTY & BERTHA
Don't be silly.
MATTHEW
Check it yourselves. It's just to your right… about four steps.
Betty and Bertha use their sticks to guide themselves toward the bag. Once they get next to the bag, they poke it a few times. At first nothing happens, but eventually a "yelp" is heard from the bag.
BETTY & BERTHA
Oh, my!! It is alive.
BAA BAA
We told you that.
BETTY & BERTHA
Well, we can't leave the bag. Orwell will kill us.
A cat (FAT CAT) enters.
MATTHEW
Fat Cat, thank goodness you're here.
Betty & Bertha spin around, at the mention of Fat Cat, and swing their sticks in the air.
BETTY & BERTHA
Not a step closer, Fat Cat!
FAT CAT
Relax. I'm on a break.
BAA BAA
You're ALWAYS on a break. You have to be the worst mouser in the history of mousers.
Betty and Bertha laugh.
Why Subscribe?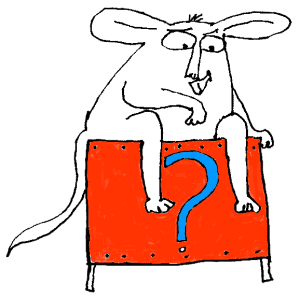 Inside Drama Notebook, you will find a huge collection of well-organized lesson plans, scripts for kids, drama activities, 50 drama games on video and more! Join today and dramatically reduce your planning time while delivering fresh, innovative drama lessons to your students! If you are new to teaching drama, this site will be a Godsend! You will immediately feel confident about teaching drama like an expert. The site guides you step-by-step and provides you with materials that you can use right away with your students.
If you have been teaching for years, Drama Notebook will inspire you with a fresh new approach and innovative ideas!
The site is packed with original, innovative lessons and activities that you will not find anywhere else—and new materials are added monthly.