16 characters; 10M, 6F; Flexible casting; 11 pages in length. Approximately 10-15 minutes running time. A comedic, Southeast Asian fable for children written by Gemma Goodwin.
Deer Mouse Vs. The World is a hilarious adaptation of the Southeast Asian fable about a tiny but clever mouse. Deer Mouse comes across many predators along her travels but she is always confident as she sings, "I'm quick and smart as I can be. Try and try, but you can't catch me!" She'll use her wits to avoid being eaten by a fierce tiger, hungry crocodiles, and even an old farmer. But when she is caught by an unusual scarecrow, she'll have to outsmart the farmer's dog or be made into deer mouse pie!
Gemma Goodwin is a creature of the night, pounding at the keyboard while her children pretend to sleep in their beds. She is currently studying for her Level 7 Diploma in Applied Writing at North Tec, New Zealand, and this is where Gemma wrote the play Deer Mouse Vs. The World. Molly's Odyssey, her first YA novel is due for release early 2020. You can find Gemma at her website: www.gemmagoodwin.com
Excerpt from the play:
CAST OF CHARACTERS
NARRATOR
DEER MOUSE
TIGER
WASP NEST – 4 people huddled together with their backs to the audience
QUEEN – Hidden in the middle of the wasp nest
CROCODILE
CROCS / LOGS – 4 people
FARMER
SCARECROW
DOG
SETTING: In the jungle
SCENE ONE
DEER MOUSE is eating the grass in the jungle when she notices TIGER stalking her.
NARRATOR
Deer Mouse sang her song as she ate a scrumptious meal of roots and shoots.
DEER MOUSE
(Singing) I'm quick and smart as I can be. Try and try, but you can't catch me!
NARRATOR
Little did she know that Tiger was stalking, ready to pounce, no time for balking! Oh wait, yes, she did, because like she told us already …
DEER MOUSE
(Singing) I'm quick and smart as I can be. Try and try, but you can't catch me!
TIGER tries to jump on DEER MOUSE who quickly side-steps him. TIGER rolls on the ground looking ripped off.
DEER MOUSE
I might be small and you might be big, but this trying to not be eaten thing, ain't my first gig.
TIGER
(Makes a 'pffft' noise, looking indignant at his claws) To be fair I didn't even really try, my dear.
DEER MOUSE
Well, that's good for me, as I have a most important job you see. (Looking around anxiously) I'm afraid I can't go into your tum, I'm guarding—you see there? (Pointing upwards) The king's favourite drum!
NARRATOR
Ba da boom.
TIGER
Where? Up there in that tree?  Could it really, really be? Gimme a go, I want to see!
DEER MOUSE
(Looks shocked, hand on heart) The king would be oh so mad! I don't know if I could, that would be real bad. Having thought about it, I'll tell you what, I'll go over there (Pointing away) and you can give it all you've got.
NARRATOR
So, Tiger and Deer Mouse shook hands (Looks at TIGER and DEER MOUSE indicating for them to shake hands, DEER MOUSE wipes her hand on her sleeve afterward), and as Tiger began to climb the tree, Deer Mouse turned to flee, singing…
DEER MOUSE
(Singing) I'm quick and smart as I can be. Try and try, but you can't catch me!
NARRATOR
Tiger scrambled and climbed until finally he was at the (Does the " " thing with two fingers on each hand) "king's drum".
TIGER rubs paws together excitedly and whacks the WASP NEST. WASP NEST breaks apart to reveal four humming WASPS and the QUEEN in the centre.
WASP NEST
Bzzzzzz Bzzzzzz Bzzzzzz.
QUEEN
(Looking outraged) Howzzzz darezzz zooouuu! (Points at TIGER) Geeezzz himmm!
WASP 1
Gezzz him!
WASP 2
Gezzz him good!
WASP 3
Gezzz him gooooder!
WASP 4
Gezzz him like we shouuuuld!
WASPS make way to attack TIGER and freeze like statues when TIGER shouts….
TIGER
(Drops to a cower covering head) I object!
WASPS
He objectzzz? (Looking at QUEEN unsure what to do but still frozen)
QUEEN
(Hands on hips) On what groundzzzz?
TIGER
She… (Looking around for Deer Mouse who has vanished) tricked me; she told me this was the king's drum. I didn't wait around to hear the hive's low hum.
Why Subscribe?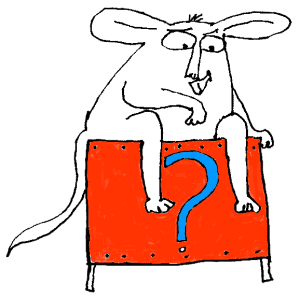 Inside Drama Notebook, you will find a huge collection of well-organized lesson plans, scripts for kids, drama activities, 50 drama games on video and more! Join today and dramatically reduce your planning time while delivering fresh, innovative drama lessons to your students! If you are new to teaching drama, this site will be a Godsend! You will immediately feel confident about teaching drama like an expert. The site guides you step-by-step and provides you with materials that you can use right away with your students.
If you have been teaching for years, Drama Notebook will inspire you with a fresh new approach and innovative ideas!
The site is packed with original, innovative lessons and activities that you will not find anywhere else—and new materials are added monthly.