5 characters, 4F, 1 any gender. Approximately 7 minutes running time. A family of bunnies outwits a wily fox.
When Mama leaves her three bunnies at home for lunch while she goes to work, she expects them to listen and never open the door to strangers. One fox has a different idea. With the smell of vegetable stew, roasted potatoes, and pie in the air, do these three sisters have any chance of staying safe?
This script includes discussion questions and director's notes on casting and set design.
Debra A. Cole is a celebrated humanities teacher, youth theatre director, and children's playwright with degrees in journalism, art history, and elementary education. She understands the needs of young performers and their directors and creates pieces that encourage engaging discussion, creative thought, and quirky playfulness. Her goal is that young performers discover the power and delight that theatre brings to actors and audiences alike.
Visit her website:
www.debraacole-playwright.com
Excerpt from the play:
CHARACTERS
FOX — (M/F) hungry and clever
LINDA LU — (F) sister bunny – very trusting
BETSEY BLUE — (F) sister bunny – very trusting
DEBBIE DO — (F) sister bunny – very trusting
MAMA — (F) loving mother who cares about her little bunnies
(The action takes place in modern times in a rabbit hole.)
(Lights come up in a small rabbit hole. Mama is packing her work bag as she gives her three small bunnies instructions for the day. Each bunny is doing things that truly keep her from listening. Betsy Blue is knitting a scarf of orange yarn, Linda Lu is listening to music with her headphones on her head, and Debbie Do is playing a video game on a hand-held game. A stove top and oven is present in the room with pots on top.)
MAMA
(busying herself) I should be home by five o'clock, my dear bunnies!
DEBBIE DO
(without looking up from game) Got it.
MAMA
(notices that Debbie Do is not even paying attention) Debbie Do, you are not even listening to me. Put that game down!
DEBBIE DO
(places game down) Yes, Mama.
MAMA
I have a morning meeting, so I won't be able to be reached, but I know the three of you will take good care of each other.
BETSY BLUE
(still knitting) Uh huh…
MAMA
(scolding) Betsy Blue! I know you love sewing and knitting, but now is a time to listen. The three of you are old enough to stay home by yourselves, but I want to make sure you understand how to be safe.
BETSY BLUE
Yes, Mama.
MAMA
Now, I am leaving a pot of vegetable stew on the stove, there are roasted potatoes in the oven, and a beautiful pie is cooling on the counter.  It's a new recipe. It was a little tricky, but I think you will love it. Everything is ready for the three of you to have a delicious lunch.  Have as much as you want. You are growing bunnies. You like vegetable stew, don't you Linda Lu?
(Linda Lu is bouncing her head to the music and does not hear Mama.)
Linda Lu?
(Mama walks over to Linda Lu and takes one earphone off her ear.)
Right, Linda Lu?
LINDA LU
(confused) What?
MAMA
Okay, girls. You might not have heard everything I said today, but listen to me now. NEVER open the door to strangers when you are home alone.
DEBBIE DO
(scoffs) We know that, Mama.
LINDA LU
You say that EVERY time you go have to go into work.
BETSY BLUE
We never open the door to strangers.
MAMA
Good. Now, I'm off. Be safe, my sweet girls.
(Mama exits the cottage and leaves the three bunnies alone.)
DEBBIE DO
Why does she not trust us?
LINDA LU
Oh, she trusts us. She just doesn't think we listen.
BETSY BLUE
We ALWAYS listen. I listened to Mama scolding Debbie Do about the dishes last night. (smirking)
DEBBIE DO
Oh, yeah? I heard Mama telling Betsy Blue to pick up her clothes off the floor.
LINDA LU
Enough. We need to prove to Mama that we can make good choices. Didn't Mama say something about vegetable stew?
BETSY BLUE
I am starving! Let's have some of that wonderfully smelling vegetable stew right now.
(Betsy Blu, Linda Lu, and Debbie Do head to the stove, but are stopped by a knock at the door.)
LINDA LU
Oh no!
DEBBIE DO
Let's see who is there!
BETSY BLU
NO! Remember what Mama said. We are not to open the door to anyone while she is gone.
(Someone pounds on the door.)
DEBBIE DO
I don't think whoever is there is going away.
LINDA LU
How about we just tell whoever it is to go away WITHOUT opening the door.
DEBBIE DO
Makes sense to me.
BETSY BLU
Okay, but be careful.
(Linda Lu walks over to the door and speaks very loudly.)
LINDA LU
Go away. We aren't allowed to open the door to strangers.
FOX
(voice from other side of door) Stranger? I'm no stranger. I'm just a simple fox, and the delicious smells coming out of your cottage have drawn me to your door.
LINDA LU
(to the others) It says it's a fox. Foxes don't hurt people.
DEBBIE DO
Are you crazy? FOXES EAT BUNNIES! Why would we open the door to a fox?
Why Subscribe?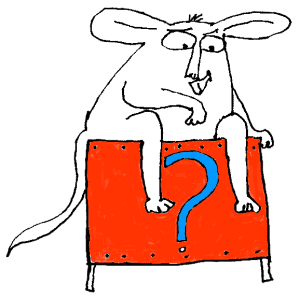 Inside Drama Notebook, you will find a huge collection of well-organized lesson plans, scripts for kids, drama activities, 50 drama games on video and more! Join today and dramatically reduce your planning time while delivering fresh, innovative drama lessons to your students! If you are new to teaching drama, this site will be a Godsend! You will immediately feel confident about teaching drama like an expert. The site guides you step-by-step and provides you with materials that you can use right away with your students.
If you have been teaching for years, Drama Notebook will inspire you with a fresh new approach and innovative ideas!
The site is packed with original, innovative lessons and activities that you will not find anywhere else—and new materials are added monthly.