3 characters. 2M, 1F. 11 pages in length. Approximately 10 minutes running time. A comedy for teens about social anxiety written by Scott Mullen.
Masks is a comedy about a very shy teen. When Paul arrives at the bus stop, he meets a boy wearing a ski mask. As they chat, the masked boy explains that he is unable to speak to people without wearing the mask. He eventually convinces Paul to wear one, too, and when Cindy comes along, she pushes them beyond their comfort zone. This sweet play for teens deals with the struggles of living with social anxiety and allowing others to see who we really are.
Scott Mullen is a playwright specializing in ten-minute plays, whose plays have been performed across the U.S. and around the world. His play, Third Window From The Right, took 2nd Place at the 2016 8×10 Theatrefest at the Weathervane Playhouse, Akron, Ohio, GOAT took 2nd Place at the 6th Annual Seoul Players Festival in South Korea, and Sandbox took 3rd Place at the 6th Annual Seoul Players Festival in South Korea. He is a longtime Hollywood screenplay analyst and screenwriter, a two-time winner of Amazon Studios' screenwriting contest. His thriller The Summoning aired on TV One and his short plays have been performed around the world.
Excerpt from the play:
CAST OF CHARACTERS
MASK: teenage boy
PAUL: teenage boy
CINDY: teenage girl
A figure in a ski mask sits in the center of a bus stop bench. He wears a coat and gloves that cover his arms and hands. He leans forward, and looks to his left, then sits back again.  A teenage boy, PAUL walks up. He hesitates at the sight of the masked man, then finally sits down on the end of the bench to his right.  They sit there, silently, then at the same time both lean forward, looking left down the street for the bus. They lean back again.
MASK
The bus was leaving just as I ran up. So we probably have about fifteen minutes.
PAUL
Thanks.
(Awkward silence.)
MASK
You're probably wondering why I'm wearing a ski mask.
PAUL
Not really. It is Halloween.
(Silence.)
PAUL
What are you supposed to be?
MASK
What do you think I'm supposed to be?
PAUL
I don't know.
MASK
Not even a guess?
(Paul studies him.)
PAUL
A… skier?
MASK
This would be a pretty terrible skier costume. No goggles, no lift pass, no poles… no skis.
PAUL
A robber?
MASK
Much better guess.
(Paul looks at him nervously.)
PAUL
You're a robber?
MASK
No. But it was a better guess.
PAUL
I give up. What are you supposed to be?
MASK
Just me, in a mask.
PAUL
Oh. Who are you?
MASK
Exactly.
PAUL
I'm confused.
MASK
I'm really shy.
PAUL
Oh.
MASK
I'm the shyest person in the world. But when I wear this mask, I can be anyone. I can say anything to anyone. It's easier. If they can't see me, they don't know my age, what I look like… I could be an Eskimo.
PAUL
Are you an Eskimo?
MASK
I could be.
PAUL
That would be pretty cool.
MASK
I'm not an Eskimo.
PAUL
Oh.
MASK
I shouldn't have told you that. I should have kept letting you think I might be an Eskimo  because you would have found that interesting. You would have kept talking to me.
PAUL
I am talking to you.
MASK
That's true.
PAUL
Plus, the mask makes you interesting.
Why Subscribe?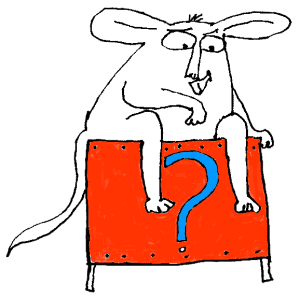 Inside Drama Notebook, you will find a huge collection of well-organized lesson plans, scripts for kids, drama activities, 50 drama games on video and more! Join today and dramatically reduce your planning time while delivering fresh, innovative drama lessons to your students! If you are new to teaching drama, this site will be a Godsend! You will immediately feel confident about teaching drama like an expert. The site guides you step-by-step and provides you with materials that you can use right away with your students.
If you have been teaching for years, Drama Notebook will inspire you with a fresh new approach and innovative ideas!
The site is packed with original, innovative lessons and activities that you will not find anywhere else—and new materials are added monthly.