31 characters. Flexible casting. 59 pages in length. Approximately 60 minutes running time. A compilation of 12 short plays for children written by Phyllis J. Perry. (10 credits)
Plays For You And A Friend Or Two is a compilation of twelve short plays, each with 2 or 3 characters, and simple staging. The plays are written for elementary school children and include: THREE STICKS; LOST AND FOUND; THE BEST BIRTHDAY EVER; THE MAGIC HAT; PIRATE TREASURE; CALYPSO, THE ROYAL DRAGON; TWO FUSSY FROGS; IN THE CAVE; GLOOMY, RAINY DAY; NEVER EMPTY STEW POT; HICCUPS; and FOR YOU OR FOR ME?. These fun plays are full of friendship, humor, fantasy, and magic and children will love to perform them in class or on stage!
Phyllis J. Perry lives in Boulder, Colorado. She is a graduate of the University of California, Berkeley, holds a Masters Degree from San Francisco State, and a doctorate from the University of Colorado, Boulder. She has been active in three community theaters. Phyllis is a retired teacher who writes for children and adults. She writes fiction and nonfiction books, poetry and plays. A list of her 92 book can be found on her web site, www.phyllisjperry.com.
Excerpts from the 12 plays:
Three Sticks
                     By Phyllis J. Perry
CAST OF CHARACTERS
Walker
Statue
AT RISE: As the scene opens, one player stands mid-stage, still as a statue. Another player comes walking along a path through the woods.
WALKER
(Looks puzzled and walks slowly around the child who is standing very still.) Hi! What are you doing standing here in the middle of the woods?
STATUE
I'm so glad you've come along. I was afraid I might stand here alone for hours or maybe days. I have been put under a magic spell. I can see, and I can talk, but I can't move. I'm stuck here like a tree.
WALKER
Who put you under a magic spell?
STATUE
The Old Black Widow Spider.
WALKER
Why did she cast a spell on you?
STATUE
(whispering) I'm not sure, but maybe because I tore her spider web.
Walker
What? I couldn't hear you. (She moves closer.)
STATUE
(Speaking louder.) I tore up her spider web with a stick.
WALKER
No wonder she got angry. You ruined her beautiful web. Do you know if there is any way to break the spell?
STATUE
Yes, there is. The spider gave me a riddle to solve. But I'm not very good at riddles.
WALKER
I'm pretty good at solving riddles. Let me try. What did she say?
THIS PLAY IS NOT OVER.
Lost and Found
                                 By Phyllis J. Perry
CAST OF CHARACTERS
Visitor
Chris
AT RISE: As the scene opens, Visitor is knocking at the door of Chris's house. Chris comes and opens the door.
VISITOR
Hi, Chris. Can you play?
CHRIS
No, I can't play right now. I have math homework to do. But first, I've lost something important and I have to find it. Want to help me look for it?
VISITOR
Sure. What did you lose? (Comes inside and closes the door.)
CHRIS
I lost that permission slip from school that we were supposed to bring home, get our mothers to sign, and return to school. It lets us go on the class field trip. I forgot to bring it today. Tomorrow is the trip. If I don't find it and take it back, I won't be able to go.
VISITOR
Don't look so worried. We can find it. It's probably still in your backpack. Where's your pack?
CHRIS
It's in my bedroom. (The two move into the bedroom. Chris picks up her backpack.) I just looked all through it, and I couldn't find the note.
VISITOR
Let's look again. Maybe it's there and you just didn't see it. You know what they say, two sets of eyes are better than one.
(The two begin to take everything out of the pack. They search all the pockets, and they flip through the pages of each of the books that is inside. )
CHRIS
Look! (She holds up a crumpled piece of paper.) It's my math homework. I couldn't find it this morning, so I was going to have to do it all over again tonight. Now I don't have homework to do!
VISITOR
Great. Now if we can find your permission slip, you can play. Let's tuck that paper right inside the front cover of your math books you'll know where it is.
THIS PLAY IS NOT OVER.
The Best Birthday Ever
                                       By Phyllis J. Perry
CAST OF CHARACTERS
King
Queen
Princess
AT RISE: The king and queen are talking together while sitting on their thrones.
QUEEN
Your majesty, I cannot think of a suitable present to give our daughter, the princess, for her birthday, which is in just two days.
KING
That shouldn't be hard. Why not a doll, a ball, or a book?
QUEEN
All very good ideas, your majesty. But she already has many dolls and balls and books. I was hoping to give her something different.
KING
Hmmm. (He rubs his chin and thinks hard.) How about a new crown? Crowns are always shiny and pretty. You can never have too many of them.
QUEEN
Your majesty, it would hard for the royal jeweler to make one in just two days. Besides, she already has a lovely crown and you know she seldom wears it. She is always running about, chasing butterflies, or digging in the dirt with the gardener.
KING
Yes, yes. You are quite right, my dear. Hmmm. (He rubs his chin again and thinks hard.) Perhaps the thing to do is to simply ask her what she wants.
QUEEN
But then it won't be a surprise!
KING
True, but it will be something she really wants.
QUEEN
Quite right, my dear. Let's go ask her. Perhaps she is in the library reading.
(King and Queen walk to the library and look, but the princess is not there.)
THIS PLAY IS NOT OVER.
The Magic Hat
                                 By Phyllis J. Perry
CAST OF CHARACTERS
ELLEN
BETH
AT RISE: One child sits on a bench in a park. This child is wearing a hat. Another child comes walking along. She stops in front of the girl who is sitting.
ELLEN
Hi, there. Who are you, and what are you doing sitting here alone in the park?
BETH
Hi. I'm Beth. I just moved here. We live in the yellow house on the corner on the other side of the park. (She points across the park.) And what does it look like I'm doing? I'm sitting here wearing my magic hat.
ELLEN
Magic hat? What's magic about it?
BETH
I put it on, close my eyes, make a wish, and my wish comes true.
ELLEN
Really?
BETH
Really. I just did it.
ELLEN
You just worked magic?
BETH
Yes, I did.
ELLEN
Tell me how it works.
BETH
I was lonesome, because we just moved here. My brother made a friend already, but I don't know anyone yet. My brother went off some place this morning and told me not to tag-along. I didn't have anybody to play with. So, I came over here to the park and put on my magic hat. I wished for a new friend. And ZHASAAM! Here you are.
THIS PLAY IS NOT OVER.
Pirate Treasure
                                 By Phyllis J. Perry
CAST OF CHARACTERS
The Captain
First Mate
Second Mate
AT RISE: It is early morning and all three players sit in the boat fishing. One, wearing a hat, is the captain of the crew.
CAPTAIN
Aaar! The fish ain't biting today. I wonder why.
FIRST MATE
I'll tell ye why. There be crocodiles here that are scaring the fish away.
SECOND MATE
Yer daft. I haven't seen any sign of crocodiles.
FIRST MATE
That's because they keep below the water. Or maybe they're invisible. But deep in my bones I can feel that crocodiles are near. See those bubbles over there? (points.)
SECOND MATE
Aye, I see bubbles, but I don't see any crocodiles.
CAPTAIN
Avast! Shiver me timbers! I think I've caught something.
(Captain pretends to be landing a big fish. When he pulls in his line, they see that he has hooked a bottle with a note inside. They crowd close together as the captain pulls out the note.)
CAPTAIN
Yo, ho, ho! What could this be? Look! There be skull and crossbones on it. I think it may be a message from some other pirate. Maybe one who came to this island long ago. (The captain unfolds the note.)
FIRST MATE
What does it say?
THIS PLAY IS NOT OVER.
Calypso, The Royal Dragon
                                             By Phyllis J. Perry
CAST OF CHARACTERS
The Princess
The Royal Physician
Calypso, the Royal Dragon
AT RISE: As the scene opens, the Royal Physician and the Princess come walking up to Calypso. He pays no attention to them.
PRINCESS
Dear Calypso, whatever is wrong? The Royal Physician tells me that you are not eating and that you do nothing all day except lie on the grass.
ROYAL PHYSICIAN
Look, Calypso. See what I have brought you? A bowl of yellow corn, your favorite food to nibble. Now, do eat a little.
CALYPSO
(Sighs and turns his head away without taking a bite of food.) I'm not hungry.
PRINCESS
(She drops down on the grass and gently pats the dragon's head.) Do you hurt anywhere, Calypso? Do you have a pain in your tummy? Do you have a cold in your head?
 (CALYPSO shakes his head no, but does not speak.)
PRINCESS
We must find something to tempt Calypso's appetite. All the cooks are in the kitchen preparing for the holiday. But they won't be too busy to fix some special treats for you. (She runs off.)
ROYAL PHYSICIAN
Now see here, old boy, we must get to the bottom of this. I've felt you all over and you have no broken bones. You aren't hot with fever. You aren't sneezing or wheezing. Whatever can be the matter with you?
 (CALYPSO sighs, but does not speak.)
PRINCESS
(Rushes back.) Oh, what treats I have for you, Calypso! The Royal Cooks have sent you a strawberry dipped in sugar, a freshly baked cookie, and a bright red, delicious apple. (The princess sits down near Calypso and one by one offers him a treat. Each treat is refused.)
ROYAL PHYSICIAN
(Takes the Princess aside and whispers in her ear.) I don't want to alarm you, your highness, but this is very serious. Calypso hasn't eaten for several days now. And he isn't drinking, either. He will soon be too weak to move.
THIS PLAY IS NOT OVER.
Two Fussy Frogs
                                  By Phyllis J. Perry
CAST OF CHARACTERS
Nikki
Freddie
AT RISE: It is late morning and the two frogs are sitting at the edge of the lake in the park talking with one another.
NIKKI
I wonder where all the flies are today? And the gnats and dragonflies. I need to catch something to eat soon. I'm starving. Croak-croak.
FREDDIE
Ribbit. I'm hungry, too, but I'm awfully tired of flies and worms and crawly insects. Breakfast, lunch, and dinner–that's all we ever get. Ribbit.
NIKKI
Remember that last week we found a school of tiny fish. They were very tasty. Croak-croak.
FREDDIE
I remember. Ribbit-ribbit. But we're not often that lucky. And the kids I see playing in the park, and the people who come for what they call 'picnics' seem to have all sorts of exciting things to eat. Why not us?
NIKKI
(Wistfully) Yeah. Some of the things I see them eating do look awfully interesting. But that's people food, I guess, and we're frogs. Croak-croak.
FREDDIE
Say, I have an idea. Ribbit-ribbit. Instead of swimming out to the lily pads to the middle of the lake when people come today, why don't we hide in these cattails close to shore. Maybe we can find a way to get some of those good looking things to eat.
NIKKI
Sounds dangerous to me. Croak-croak. What if the people have one of those awful dogs with them? One came running after me last night. It even followed me clear out into the lake!
FREDDIE
He couldn't catch you though, could he? Ribbit-ribbit.
NIKKI
Of course not. But he scared me. Croak-croak.
FREDDIE
People aren't supposed to let their dogs run loose here in the park, but I know sometimes they do. Ribbit-ribbit. We won't go near anyone with a dog. Promise.
THIS PLAY IS NOT OVER.
In the Cave
                                    By Phyllis J. Perry
CAST OF CHARACTERS
Pat
Terri
AT RISE: As the scene opens, the two children are running toward the entrance of a cave trying to protect themselves from hailstones.
PAT
Ouch! That hail hurts.
TERRI
Look! We're in luck! It's a cave. We can get out of the hail and keep dry in here until the storm's over.
PAT
Good! I'm wet and cold, and those hailstones hurt. (Crawls into the cave.) This is a pretty big cave. See? It goes back a long way. (Points back into the darkness.)
(Terri enters cave, too, and both take off their day packs.)
TERRI
I've got a flashlight in my pack. (She takes it out and shines the light around the cave.)
PAT
I'm sure glad you brought a flashlight. It's kinds of spooky in here, you know. (She looks back over her shoulder and sniffs.) It smells kind of funny, too.
TERRI
(She sniffs.) It does smell smoky. (She shines her flashlight back into the cave.) Darn it. I can't see very far. (She gives her flashlight a shake.) The batteries must be about gone. (Squints back into the darkness.) The light's so dim, I can't make things out very clearly. (She moves deeper into the cave.)
PAT
(Pat follows Terri.) Aieeee! (She suddenly screams.) There's something in my hair. Bats! (Dancing up and down and pulling at her hair.) I think it's a vampire bat.
TERRI
Hey! It's okay. It's not a bat. (She smoothes her friend's hair.) It was just a cobweb, that's all. It's gone now.
PAT
A cobweb? Yikes! Spiders! Are there poisonous spiders all over me? (She frantically brushes herself.).
THIS PLAY IS NOT OVER.
Gloomy, Rainy Day
                                                 By Phyllis J. Perry
CAST OF CHARACTERS
Queen Anne
Princess Rose
Jack, the Court Jester
AT RISE: As the scene opens in late morning, the Queen and the Princess are sitting on their thrones. It is gloomy outside, and rain is falling.
PRINCESS
(Gives a deep sigh.) I hate rainy days! I wanted to go outside and play today.
QUEEN
(Also sighs.) I was planning on taking a walk and cutting some roses in the royal garden to put on our dining table tonight.
PRINCESS
Now there's nothing to do but sit inside.
QUEEN
We could read a book.
PRINCESS
I don't feel like reading, do you?
QUEEN
No, I don't.
PRINCESS
We could embroider.
QUEEN
I don't feel like sewing, do you?
PRINCESS
No, and I don't want to draw, or sing, or play the piano, either. It's all so gloomy, and rainy, and sad. I want to be happy and laugh.
QUEEN
That's it! We need to laugh. I'll ring for the Court Jester. (She rings an imaginary pull-cord.)
(The Court Jester appears. He kneels in front of the Queen.)
JESTER
You rang, your Highness? What may I do for you and the Princess Rose?
THIS PLAY IS NOT OVER.
Never Empty Stew Pot
                                               By Phyllis J. Perry
CAST OF CHARACTERS
Sasha
Mother
Granny
AT RISE: Mother and Sasha are looking out the window of their small farm house and talking, eagerly awaiting the arrival of Granny.
MOTHER
Grandmother will be here at any moment now. She's never late.
SASHA
I wonder what present she will bring me? Last year it was a beautiful doll, remember? It was dressed in a pink satin gown. It's like magic. No matter how much I play with it, it always looks brand new.
MOTHER
Granny does give special presents. But don't expect too much this year. It was not a good year for farming in our village. No one has any extra money. It will be all we can do to make it through this cold winter while we hope for a good growing season in the spring.
SASHA
I know, mother.
MOTHER
Even though it is your birthday, we cannot even invite the neighbors on either side of us to come celebrate with us. We haven't enough food to go around.
SASHA
Look, mother. Here comes Granny. She's carrying packages and walking slowly.
GRANNY
(Coming up to the door.) Happy birthday, Sasha.
SASHA
Granny, let me help you. (She takes the smaller package.)
MOTHER
(Takes the big package.) Let's all go inside where it is warmer. Oh, this is heavy. However did you carry it all the way here?
(The three move into the kitchen.)
GRANNY
(Sitting in a chair and pulling her shawl around her). I had to stop and rest several times on the way. But I made it! (Pointing out the big package.) Now, open your present, Sasha. Happy birthday!
THIS PLAY IS NOT OVER.
Hiccups
                                       By Phyllis J. Perry
CAST OF CHARACTERS
Robin
Casey
Pat
AT RISE: As the scene opens, Casey and Pat stand on front porch. Pat rings the bell and Robin opens the door.
ROBIN
Hi, Pat. Hi, Casey. Hic! Come on in. Hic!
PAT
Hey! Do you have the hiccups?
ROBIN
How did you – hic – guess? (She laughs.) I got them just a couple of minutes ago, and they won't stop.
 (All three move inside. CASEY suddenly sticks out his tongue.)
ROBIN
Hic! How rude! What are you doing?
CASEY
Actually, you're in luck! I happen to know it's a sure fire cure for hiccups. Just stick out your tongue as far as you can and keep it there while I count to twenty.
ROBIN
Are you kidding? Hic.
CASEY
No, I'm serious. Now stick out your tongue while I count. (Robin obeys.) 1, 2, 3, 4, 5…
(Robin hiccups loudly.)
ROBIN
Hic! See. It didn't work. Come on. You can put your books out on the kitchen table. Hic. We might as well start on our math. Then we can have snacks and play.
PAT
No, wait! I have a hiccup cure that won't fail. But we need a paper bag. Do you have a bag?
ROBIN
Sure. Hic.
(Robin produces a paper bag.)
THIS PLAY IS NOT OVER.
For You or For Me?
                                     By Phyllis J. Perry
CAST OF CHARACTERS
Clerk
Eloise
Greg
AT RISE: Eloise is looking at a science experiment kit.
CLERK
We carry a lot of different science experiment kits, but this one, The Wizard's Lab, is certainly my favorite. It's high quality and offers so many possibilities for safe experiments and it's on sale.
ELOISE
Oh, yes, I know. I've been keeping an eye on it. I'm going to buy one for myself if I get any Christmas money. It's a great set! Today, I'm getting something for my friend and neighbor. Our families get together every Christmas Eve. Usually, my mother buys the gifts, but this year she said I could pick it out myself.
CLERK
Does your neighbor enjoy doing science experiments?
ELOISE
Who doesn't? A science lab is more fun than anything. Actually, I don't think Greg has done many experiments, but I'm sure that's because he doesn't have The Wizard's Lab. He's sure to love it. It's such a fantastic set!
CLERK
(Looks doubtful.) Well, yes, but if you don't think he's really interested in science experiments, you know, we have lots of other great possibilities. We've got the newest computer games, radio controlled cars, soccer balls.
ELOISE
No, thanks, I'll take The Wizard's Lab. No doubt about it. It's the best thing in your store.
CLERK
(Rings up the sale.) I'll wrap this for you in some candy cane paper. (He wraps box and hands it to her.) There you are! I hope your friend likes his gift. Merry Christmas!
ELOISE
The same to you. (She leaves.)
(A moment later someone else enters the store.)
CLERK
May I help you?
THIS PLAY IS NOT OVER.
Why Subscribe?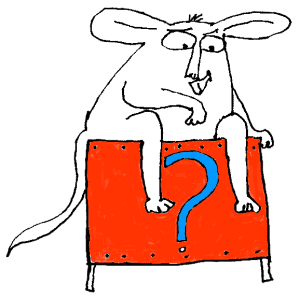 Inside Drama Notebook, you will find a huge collection of well-organized lesson plans, scripts for kids, drama activities, 50 drama games on video and more! Join today and dramatically reduce your planning time while delivering fresh, innovative drama lessons to your students! If you are new to teaching drama, this site will be a Godsend! You will immediately feel confident about teaching drama like an expert. The site guides you step-by-step and provides you with materials that you can use right away with your students.
If you have been teaching for years, Drama Notebook will inspire you with a fresh new approach and innovative ideas!
The site is packed with original, innovative lessons and activities that you will not find anywhere else—and new materials are added monthly.