4 characters. 3M, 1F; 8 pages in length. Approximately 5-10 minutes running time. A Christmas comedy mash-up written by Olivia Arieti.
Scrooge's Christmas Eve is a delightful mashup where Ebenezer Scrooge meets Mr. and Mrs. Claus! Santa and Mrs. Claus are busy delivering presents on Christmas Eve when they come upon the home of Ebeneezer Scrooge. Noticing that he is indeed on the Naughty List, they encourage him to have a change of heart and help others. Things get kicked up a notch when Scrooge's former partner, Marley, arrives to help them out. Will Scrooge be able to turn over a new leaf or will he be doomed forever? This humorous play for kids teaches kindness and generosity and is destined to be your next holiday hit!
Olivia Arieti, a US citizen with a degree from the University of Pisa, lives in Torre del Lago Puccini, Italy, with her family. Her plays have been published by Heuer Publishing, Brooklyn Publishers, Desert Road Publishing, JAC Publishing & Promotions, Independent Playwrights, Green Room Scripts, Applause Theatre & Cinema Books, USA and Lazy Bee Scripts, UK. FLIGHT ATP12 was produced by Gulfport Community Players, FL, JUST FOR YOU, by Blue Box Productions, NYC, CONTEMPTUOUSLY IN LOVE, by Ciona Taylor Productions, NYC; her one minute works by Gi60 Screaming Media Productions NYC, UK, Spare Change Theatre, NYC and Eclectic Theatre Company, FL. UP NORTE and NIGHT INTRUDERS, finalists in the R.J. Flores Short Play Reading Series had staged readings in NYC. THE TEACHER, an adaptation of A. Chekhov's story, "The Teacher of Literature", was produced at the Viaduct Theatre, Chicago, for the Neapolitans Off-Chekhov Festival. SOMETHING IN COMMON was produced by Spokane Radio Theatre, WA. Her poems and short stories have appeared in several literary magazines and anthologies in the USA and UK.
Excerpt from the play:
CAST OF CHARACTERS
Santa Claus
Mrs. Santa Claus
Ebenezer Scrooge
Jacob Marley's ghost
TIME:
Christmas Eve.
SETTING:
Scrooge's living room. Scanty furniture, a desk, a clock, a fireplace.
Props List:
Two lists, a sack, two presents (Santa)
A little bottle with powder (Mrs. Santa)
Keys, purses (Scrooge)
Production notes:
Scrooge wears a nightcap, night gown, slippers.
        At rise: SANTA CLAUS and MRS. SANTA CLAUS have just dropped down the fireplace.
SANTA (gets up)
Good thing it wasn't working.
MRS. SANTA
Ouch, my back.
SANTA (helps her get up)
I warned you. However, I'm happy you've come along.
MRS. SANTA (looks around)
Boy, what a miserable place.
SANTA
Hey, where's the Christmas tree?
MRS. SANTA
Can't see any stocking either, nor the cookies or the glass of milk.
SANTA
Not even the carrots for the reindeer. I really would like to know who lives here.
MRS. SANTA
An odd fellow, for sure. By the way, what's his name?
SANTA (takes out his list)
Hum… let me see… Seems he's not on the nice list.
MRS. SANTA
Check the naughty one, Santa.
SANTA (checks the other list)
Yep, here he is… (reads slowly) Ebenezer Scrooge… He's a grown-up.
MRS. SANTA
I got it! This is Scrooge's home, the stingiest guy there is.
SANTA
Also the richest, my dear.
MRS. SANTA
Do you know how many poor folks he could help?
SANTA
Such a wicked soul would never spare a single penny for his fellowmen. A big lump of coal is what he'll get.
MRS. SANTA
Now, now, dear, give him a chance. If only we, too, could help to soften his heart.
SANTA
Can't deny it would be most gratifying.
        SCROOGE enters.
SCROOGE
Hey you, what are you doing in my living room?
SANTA
Come on now, can't you guess who we are?
SCROOGE
Thieves, that's what you are! You've come to steal my riches.
MRS. SANTA
According to what's in here, I presume there's nothing to steal, Mr. Scrooge.
SCROOGE
Say, who told you my name?
SANTA
You were on my list, buddy.
MRS. SANTA
On the naughty one, unfortunately.
SCROOGE
I'm going to call the police.
Why Subscribe?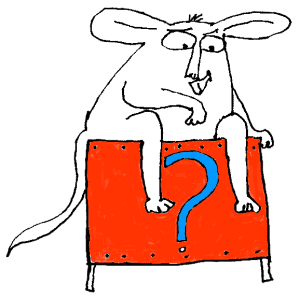 Inside Drama Notebook, you will find a huge collection of well-organized lesson plans, scripts for kids, drama activities, 50 drama games on video and more! Join today and dramatically reduce your planning time while delivering fresh, innovative drama lessons to your students! If you are new to teaching drama, this site will be a Godsend! You will immediately feel confident about teaching drama like an expert. The site guides you step-by-step and provides you with materials that you can use right away with your students.
If you have been teaching for years, Drama Notebook will inspire you with a fresh new approach and innovative ideas!
The site is packed with original, innovative lessons and activities that you will not find anywhere else—and new materials are added monthly.