20 characters. 7M, 6F, 7 Either; 43 pages in length. Approximately 30-45 minutes running time. A spooky, comedic adaptation for children and teens written by Wayne Miller. (5 credits)
Shivers takes one of the lesser known (but seriously cool) tales from the Brothers Grimm and turns it on its head. A young woman named Roberta suffers from a serious handicap— or at least everyone else thinks so—in that she was born without the ability to feel afraid, so she sets out on a journey to discover the meaning of fear. On the way she encounters all kinds of zany, spooky characters and, in typical happily-ever-after fashion, ends up freeing "the world's most haunted castle" from its curse and marrying (er, make that "going steady with") the handsome prince. The play uses humor to make the scary scenes and creatures not so scary after all, and is perfect entertainment for both kids and adults!
Wayne Miller is the owner and chief creative director of EVIL CHEEZ PRODUCTIONS, a theatrical company specializing in stage shows and haunted attractions. He has been a writer since before he learned the alphabet—he drew pictures—and has written, directed, and produced (and occasionally acted in) over two dozen plays. His debut novel, THE CONFESSIONS OF SAINT CHRISTOPHER: WEREWOLF, which is NOT for children, is available at https://www.smashwords.com/books/view/734763.
Excerpt from the play:
CAST OF CHARACTERS
ANNETTE
BEATRICE
MOTHER
FATHER
ROBERTA
KING
PRINCESS
PRINCE
MINISTER
GYPSY
REVENANT
VAMPIRE
SIR BIFF
BOY
FLOATING HEAD
SECOND CAT
TRUMPETER
GHOUL KING
CLOWN
ACT ONE SCENE ONE
(Lights rise on stage left, where the setting is a little girl's bedroom, simply but appropriately decorated. The only mandatory pieces of furniture are the bed and a small bookcase or shelf with children's books. Stage right remains unlit; it is the exterior of the cottage home of ROBERTA and her family. Enter ANNETTE and BEATRICE, stage left. ANNETTE is checking the room for spooks, looking under the bed, in the closet, etc.)
ANNETTE
Come on, honey. I'll show you, okay? See, look. There's nothing under your bed. Just a few dust bunnies, and dust bunnies don't bite.
BEATRICE
What about the closet?
ANNETTE
Let's check it together. See, nothing but your clothes.
BEATRICE
Charlie Beck says the Boogey Man always hides in your closet.
ANNETTE
Beatrice, you know there's no such thing as the Boogey Man.
BEATRICE
How do you know?
ANNETTE
Because grown-ups know stuff.
BEATRICE
They don't know everything.
ANNETTE
I do know there's no Boogey Man in your closet. And no ghosts under your bed. There's nothing there in the dark that isn't there when the lights are on.
BEATRICE
Maybe the ghosts are invisible. Then you wouldn't be able to see them at all. But they'd still be there.
ANNETTE
There's no such thing as ghosts.
BEATRICE
That's not what Charlie Beck says.
ANNETTE
Do you really want to listen to a kid who failed kindergarten? Twice? Come on, now, back to bed.
(ANNETTE tucks BEATRICE into bed.)
BEATRICE
Mom, if you don't believe in ghosts, why did you and Dad have Father Frank bless the house when we moved in?
ANNETTE
You remember that?
BEATRICE
Uh-huh.
ANNETTE
Well, um, I just thought it would be nice. With us moving into a new house and all.
BEATRICE
You weren't afraid it was haunted?
ANNETTE
Of course not.
BEATRICE
But you said it's an old house.
ANNETTE
Just because it's old doesn't mean it's haunted.
BEATRICE
Charlie Beck says all old houses have ghosts.
ANNETTE
Charlie Beck is probably scared of his own shadow. You don't want to be a scaredy-cat like that, do you?
BEATRICE
But I keep hearing things.
ANNETTE
What kind of things?
BEATRICE
I don't know. Bumps and stuff.
ANNETTE
Bumps, huh? You know how when you sit down in the old rocking chair on the porch, it always goes snap, crackle, pop? Well, the wood under the floors does that, too, sometimes.
BEATRICE
Something hissed at me.
ANNETTE
From where?
BEATRICE
Outside.
ANNETTE
Outside the house, or outside this room?
BEATRICE
Outside the room.
ANNETTE
Did it sound anything like that sound the refrigerator makes when the icemaker cuts on or off? Think hard. Was that kind of what it sounded like?
BEATRICE
Yeah.
ANNETTE
See, you're just scaring yourself. It's your imagination, that's all.
BEATRICE
I can't help being scared.
ANNETTE
I know. And it's okay being scared, sometimes. But you don't want to let your fears keep you from getting a good night's sleep.
(Beat.)
I know. How about I read you a story?
Why Subscribe?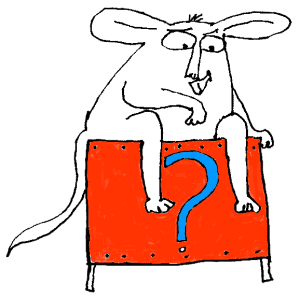 Inside Drama Notebook, you will find a huge collection of well-organized lesson plans, scripts for kids, drama activities, 50 drama games on video and more! Join today and dramatically reduce your planning time while delivering fresh, innovative drama lessons to your students! If you are new to teaching drama, this site will be a Godsend! You will immediately feel confident about teaching drama like an expert. The site guides you step-by-step and provides you with materials that you can use right away with your students.
If you have been teaching for years, Drama Notebook will inspire you with a fresh new approach and innovative ideas!
The site is packed with original, innovative lessons and activities that you will not find anywhere else—and new materials are added monthly.