17 characters. 8M, 9F, Flexible casting; 12 pages in length. Approximately 10-15 minutes running time. A comedy about the life of Pythagoras written by Terence Patrick Hughes.
Sympathetic Magic is a comedy about the Greek philosopher Pythagoras, which traces his origins, his impact, and his crazy habits like talking to animals and singing to the stars! A mad thirst for knowledge launches Pythagoras from a curious boyhood in Greece to the most sought-after teacher in Italy. His eccentricities endear him to students yet cause politicians to fear his strange and disturbingly new ideas about our solar system, our planet, and all of the creatures upon it. A wonderful play to teach teens about the great philosopher!
Terence Patrick Hughes writes plays for all ages. His children's plays include adaptations for middle and high school of Shakespeare's A Midsummer Night's Dream and The Tempest, while his shorter plays for grades K-4 offer a variety of adaptations from world mythology.  His grown-up plays include LINES , Fake Plastic Love, A Harmony of Both, and Recess at Our Lady of the Bleeding Heart, Mind, and Spirit – Once Reformed. Other plays include Tea & Misery, Benched, Finding the Rooster, and Farewell Evenbrook. The New York Times noted that his work "…explores heavy subject matter with humorous dialogue and strong characters". His plays have been developed and produced with the Lark, Horse Trade, Seven Collective, 13th St. Rep, Eden Prairie, Ovenbird, Playwrights Roundtable, and Boomerang theatres. Born in Lawrence, Mass., Hughes, his wife, and two children live in Woodstock, NY.
Excerpt from the play:
CAST OF CHARACTERS
SON
FATHER
PYTHAGORAS
DOG OWNER
PHEREKYDES
BLACKSMITH ONE
BLACKSMITH TWO
BLACKSMITH THREE
THALES
SAMOS CITIZEN
STUDENT ONE
STUDENT TWO
STUDENT THREE
KILON
NINON
SOLDIER ONE
SOLDIER TWO
A living room of a home in the present day. FATHER is seated in a far corner of the stage, reading the newspaper. SON enters.
SON
Dad?
FATHER
Yes, son?
SON
I need help.
FATHER
Oh…you didn't try to shave again, did you?
SON
No. It's my math homework. It's really hard.
FATHER
That's why they call them problems. What are you stuck on division? Multiplication?
SON
Pythagoras.
FATHER
Gesundheit.
SON
We're studying the Pythagorean Theorem and it's so boring!
FATHER
I see. How much do you know about Pythagoras?
FATHER retrieves the encyclopedia of the letter 'P'.
SON
Who cares about him? I need to learn triangles. What've you got there?
FATHER
It's an encyclopedia.
SON takes the book.
SON
Where do you plug it in?
FATHER
Try reading it. See what happens.
SON
(reading)
'Pythagoras is one of the greatest mathematicians of all time…'
PYTHAGORAS enters
PYTHAGORAS
…in a right-angled triangle, the square on the hypotenuse is equal to the sum of the squares on the other two sides.
SON
See? I told you he was boring.
FATHER
No, no. He was very famous.
SON
Did he have a Twitter account?
FATHER
Why don't we fix a snack while you tell me his story?
SON
(reading) 'Pythagoras was born…'
PYTHAGORAS takes center stage. Throughout the play, FATHER and SON freeze as the action in the past takes place.
PYTHAGORAS
I was born on the Greek island of Samos around 569 BC. My father, Mnesarchos, was a merchant, and my mother was Pythais. My childhood was as happy as one could be without running water. At an early age, I learned that I had special talents. For instance, I could talk to animals.
DOG OWNER enters.
OWNER
Hey, Pythagoras.
PYTHAGORAS
Yes?
OWNER
What did you do to my dog?
PYTHAGORAS
I just talked to him. But more importantly, I listened to him.
OWNER
All of a sudden, he stopped growling and biting.
PYTHAGORAS
He doesn't want to bite anymore. He said he wants to be a pacifist pit-bull.
OWNER
Now how am I supposed to keep toga salesmen away from my house? Stop chatting with my dog!
DOG OWNER exits
PYTHAGORAS
When I told my father that I could talk to animals, he immediately went on a long ocean voyage. When I told my mother I could communicate with animals she said to keep it a secret and not to talk to mice because they spread rumors. So I told my teacher, Pherekydes, about it.
Why Subscribe?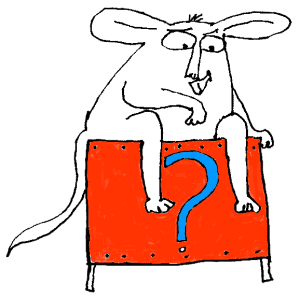 Inside Drama Notebook, you will find a huge collection of well-organized lesson plans, scripts for kids, drama activities, 50 drama games on video and more! Join today and dramatically reduce your planning time while delivering fresh, innovative drama lessons to your students! If you are new to teaching drama, this site will be a Godsend! You will immediately feel confident about teaching drama like an expert. The site guides you step-by-step and provides you with materials that you can use right away with your students.
If you have been teaching for years, Drama Notebook will inspire you with a fresh new approach and innovative ideas!
The site is packed with original, innovative lessons and activities that you will not find anywhere else—and new materials are added monthly.