6 characters. 2M, 4F; Flexible casting. 9 pages long. Approximately 5-10 minutes running time. A sci-fi rodent comedy written by Evan Baughfman.
The Amazing Rat is comedy for all ages. On a hot summer's day, two bored siblings have an unexpected encounter with a rat in their living room. But he's no ordinary rat. He talks and has an amazing shrink-ray-gun that enables the kids to play at his house! Trouble arises when Mom leaves a message that she'll be home soon. The kids haven't cleaned their rooms yet and the grow-ray-gun is glitching! Will they return to normal size again? If they do, will Mr. Rat be all alone again with no one to play with? This is a great short play for children full of imagination and unusual friendship!
Evan Baughfman is a middle school teacher who has had various written works published and/or performed. Many of his plays have been produced across the United States. His children's play, "R.O.M.3.O. and Julia" (Romeo and Juliet with robots) has been published in PLAYS Magazine. His play for young adults, "Lipstick and Heroics," is available through YouthPLAYS. In addition, his middle grade play, "Percy Pangolin Wants to Go Viral," is published by Heuer Publishing. Heuer's also published Evan's play, "A Taste of Amontillado" (an adaptation of Edgar Allan Poe's "The Cask of Amontillado"). His plays, "At the Pool's Edge," "The Pizza Man's Problem," "Rumpelstiltskin," and "Nevada Johnson and the Meaning of Life," are already available at Drama Notebook. Additionally, Evan has penned a collection of 13 short scary stories titled "Twisted Tales from Edgar Allan Poe Middle School". The collection will be published in Spring 2020.
Excerpt from the play:
CAST OF CHARACTERS
JAKE – a bored kid
JULIE – his bored sister
MR. RAT – an amazing animal
BIRDY – a caged pet
TELEPHONE – when it rings, pick it up
MOM – on her way home – uh, oh…
(On a hot summer's day, siblings JAKE and JULIE practically melt into the couch in their living room.)
JAKE
How I wish there was something we could do!
JULIE
Man, who knew summer could get sooooooooo boring? Don't we have anything to do? Like, a board game or something?
JAKE
No board games, Julie. Please!
JULIE
There's a reason they're called "board" games, Jake. We can play them when we're too "bored" to do anything else!
JAKE
Fine. I'm too lazy and hot. Why don't you get up and go find one?
JULIE
Okay. Candy Land?
JAKE
We aren't babies.
JULIE
Scrabble?
JAKE
That one hurts my brain.
JULIE
Mouse Trap?
JAKE
Takes too long to set up.
JULIE
Gosh, you're a pain. You know that?
(Julie goes to the closet to find a board game, and she sees there is a hole in the wall. Suddenly, MR. RAT pops out of the hole.)
MR. RAT
Howdy!
(Julie screams. Jake rushes over.)
JAKE
What happened?
JULIE
LOOK AT THAT UGLY RAT!
MR. RAT
Hey, now! I'm quite handsome!
(Julie and Jake are flabbergasted.)
JULIE
Do I have heatstroke? Am I hallucinating?
JAKE
Did that creepy rat just talk?
MR. RAT
Yes, I did! And it's Mr. Rat to you, thank you very much!
(Julie and Jake scream.)
MR. RAT
Please stop screaming. Gosh! It's not like I eat kids! I eat cheese. Mmmmmmmm. Cheeeeeese. Why are you just standing there when you could be having a great, fun time with all my toys?
JAKE
What toys?
(Mr. Rat runs into his hole and comes back out with his toys.)
MR. RAT
These toys! See? They're so much fun!
JAKE
Your toys are too small for us. I might break them. I'm too strong.
JULIE
Yeah, right! I'm stronger than you are!
JAKE
You wish!
MR. RAT
I will shrink you with my awesome shrink ray. That way the toys will be the perfect size for all of us.
JAKE
Are you sure it will work?
MR. RAT
I guarantee it will work. I am one of the top rat scientists in the world.
JAKE
Shouldn't you be called "Dr. Rat," then?
MR. RAT
Trust me, guys.
JAKE
Yeah, right! Trust a rat!
JULIE
But what happens if our mom comes home and she can't find us?
Why Subscribe?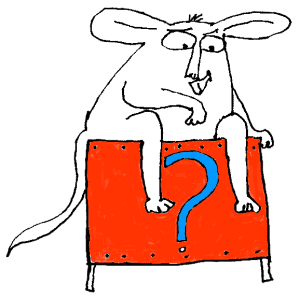 Inside Drama Notebook, you will find a huge collection of well-organized lesson plans, scripts for kids, drama activities, 50 drama games on video and more! Join today and dramatically reduce your planning time while delivering fresh, innovative drama lessons to your students! If you are new to teaching drama, this site will be a Godsend! You will immediately feel confident about teaching drama like an expert. The site guides you step-by-step and provides you with materials that you can use right away with your students.
If you have been teaching for years, Drama Notebook will inspire you with a fresh new approach and innovative ideas!
The site is packed with original, innovative lessons and activities that you will not find anywhere else—and new materials are added monthly.