3 characters. 2M, 1F; 8 pages in length. Approximately 5-10 minutes running time. An existential drama for teens written by Corey Pajka.
The Human Room is a drama about three teens. It's Picnic Day and they are eager to escape the congregation. Thomas has lured Mary to the room above the church in the hopes of being alone with her. Unfortunately, when they arrive, Luke is there. He is watching a football game seeking solitude from devastating family news. The conversation quickly gets honest and the three realize that this moment of routine is fleeting—and fragile. Sooner or later the game will be over, the day will end, they'll all grow up, and the shelter of this small room will go away. What should they do in the meantime? A touching drama for teens that deals with the inevitable realities of life and death.
Corey Pajka's work has appeared regionally at Phoenix Stage Company in Connecticut, Exit 7 Players in Ludlow, Massachusetts, the University of Houston, and Weathervane Theatre in New Hampshire (book writer for children's theater musical Animaloopidy, based on music and lyrics by T.O. Sterett). New York credits include appearances at Cherry Lane Theatre, the 14th Street Y, the Kraine Theater, The Secret Theater in Long Island City, Gallery Players in Brooklyn, and Brooklyn College. His play Long Distance Drunk was the winner of Distilled Theatre Company's "Playoffs" event in 2013. Plays Visible Cosmic Entities, Outer Space Beats Hollywood Every Time, and children's theatre play The Queen of Cocoa Puffs and The Cap'n Crunch King have received publication. Radio plays Meddling Kids, The Stand In, My Violet Brooklyn, The (Drunk) Call of Cthulhu, and May The Fourth Be With You are available for free download on iTunes. A staged reading of his full-length play Everyone Is An Astronaut is also available for free download on iTunes. He lives in Brooklyn, New York with his wife, playwright D.L. Siegel and their Pembroke Welsh Corgi, Sancho Panza.
Excerpt from the play:
CAST OF CHARACTERS
LUKE: male, mid-to late teens
THOMAS: male, mid to late teens
MARY: female, mid to late teens
TIME: A Sunday afternoon. Present day.
PLACE: A small room in the upper floors of a church, somewhere in suburban America.
SETTING: The play takes place in the storage room of a church that has been remade into a hangout for the teens who feature in the story. The room is furnished with secondhand appliances and adornments. There are two old armchairs set at center with a small side table between them. The chairs face an unseen television set. There is also a mini fridge, a toaster, and a coffee maker along a rear counter or table top amongst religious paraphernalia. There can also be miscellaneous magazines, comics, secular books, and other items set amongst the occasional Bible or Hymnal. The room is a familiar, safe, and lived-in place. The characters conduct themselves there much in the same way they would in their living rooms at home, if not even more freely.
NOTE: The racial and ethnic descriptions of the characters have deliberately been kept vague. Diversity in casting is encouraged.
Lights rise. A young man named LUKE is seated in one of the two armchairs at center, facing an unseen television. He is dressed in a suit with his shirt untucked and his sleeves rolled up. His jacket is draped over the back of one of the chairs. The indistinct chatter of a political commentary show is heard from the television. He is leaning forward, paying careful attention to what he is watching. Luke sips from a COFFEE MUG that is set on the table between the two chairs. An empty ASHTRAY is set on the table, and a TV REMOTE CONTROL is visible as well. He looks off a moment, staring into space as the program drones on. Two other teens—a young man named THOMAS and a girl named MARY enter, carrying on a conversation already in progress. They are also dressed in their Sunday best—he in a suit, and she in a modest dress and high heels.
THOMAS
–and finally, the piece de resistance.
Mary looks at the room. Thomas is clearly trying to be impressive.
MARY
Oh, wow!
THOMAS
Behold: The Human Room!
MARY
(slight laugh)  The what?
THOMAS
It's ridiculous, I know, but it was Luke's idea.
Luke perks up a bit when he hears his name. Thomas turns and finally sees him.
Oh, Luke. Hi. Well, speak of the devil. (he laughs loudly) See what I did there?
MARY
Oh!
Mary joins in with the laughter. Luke is unmoved.
Because we're in a church!
Thomas and Mary laugh a little more. It quickly dies down.
THOMAS
Well, anyway—welcome! Can I get you something to drink?
MARY
What do you have?
Thomas and Mary cross to the makeshift kitchen.
THOMAS
Well, it looks like someone took the liberty of making coffee—but we usually have—
Thomas rummages through the fridge a moment.
Uh—Luke? Que pasa, man? What happened to the Heineken? Luke?
LUKE
Huh? What?
THOMAS
The beer. Didn't you get any this week?
LUKE
Uh, no. Sorry. My dad didn't bring any home.
THOMAS
Seriously? I thought he always had some lying around.
LUKE
Well, not anymore. He actually told us this week that he was quitting.
THOMAS
(slightly annoyed)
Really?
LUKE
There should still be some Coke or Pepsi.
THOMAS
Indeed there is. I guess we'll have to make do. (to Mary) You don't mind, do you?
MARY
Actually, I could go for some coffee. (to Luke) Is that okay?
Luke nods.
Thanks. And, uh—is there a ladies' room up here?
THOMAS
(pointing off)  Down that hallway, third door to your right.
MARY
Thanks. Be right back.
THOMAS
Don't be too long!
Mary exits in the direction Thomas pointed. Thomas cracks open a soda and sits in the armchair opposite Luke.
Dude! What are you doing here?
LUKE
Watching some TV. Like every week.
THOMAS
I can see that, but did I not specifically tell you I had plans?
He gestures offstage in the direction Mary exited.
This has been, as you know, a project of mine for some time.
Why Subscribe?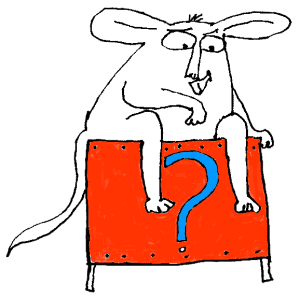 Inside Drama Notebook, you will find a huge collection of well-organized lesson plans, scripts for kids, drama activities, 50 drama games on video and more! Join today and dramatically reduce your planning time while delivering fresh, innovative drama lessons to your students! If you are new to teaching drama, this site will be a Godsend! You will immediately feel confident about teaching drama like an expert. The site guides you step-by-step and provides you with materials that you can use right away with your students.
If you have been teaching for years, Drama Notebook will inspire you with a fresh new approach and innovative ideas!
The site is packed with original, innovative lessons and activities that you will not find anywhere else—and new materials are added monthly.