12+ characters. 9F, 7M; Flexible casting; 45 pages in length. Approximately 45 minutes running time. A lighthearted drama about loss written by Trevor Suthers. (5 credits)
The Imaginary Friends Detective Agency is the story of a thirteen-year-old boy named Paul who goes in search of his imaginary friend. Gilly Gilly Ossenfeffer Katzenellen Bogen the third has gone missing. With the help of the Imaginary Friends Detective Agency, he'll set off on a wild adventure to The Land of Do As Your Told and The Land of Do What You Want to track Gilly down! Paul's crazy journey eventually enables him to come to terms with the death of his older brother. A funny yet poignant play for children.
Trevor Suthers has had over seventy of his plays produced, ranging from monologues to musicals, full-length plays, one-act plays and sketch shows, in every kind of venue and numerous non-theatre spaces. He has written for British 'TV Soaps', 'Coronation Street', and 'Eastenders'. A number of his plays have been both staged and broadcast in the US with many published online.  He is the founder of award-winning JB Shorts, Manchester's most popular fringe theatre event, presenting, bi-annually, six short plays by TV writers and now in it's tenth year.  He has written and had published a number of plays for Youth Theatre and recently won the audience-voted British Theatre Challenge 2018.
Excerpt from the play:
CAST OF CHARACTERS
Paul
Patty
Mr Therapist/Ms Therapist
Duckie
Bella Ballerina
All-powerful Queen of Correctness
Bella Belladonna
Kid 1
Kid 2
Kid 3
Kid 4
Gilly
*Plus any number of boys and girls in chorus roles.
Scene One
Open with teenage girl, PATTY PANCAKE, seated at her office desk. She has her feet up on the desk and she is browsing her I-Pad.  On the desk is a pad and pencil ad there are two chairs opposite. There could well be a sign somewhere saying, 'IMAGINARY FRIENDS DETECTIVE AGENCY'.
(Paul, a teenage boy, enters. He is somewhat shy and awkward, a little geeky perhaps.)
PAUL
Hello. Is this the Imaginary Friends Detective Agency?
PATTY
Sure is. Howdy-do, Patty Pancake at your service. (shakes hands)
PAUL
I'm Paul.
PATTY
Welcome Paul, take a seat.
 (Paul makes to sit on a chair.)
No, hey, watcha doin'? Billick's sitting there! That's Billick's chair!
PAUL
No, sorry, I didn't…
PATTY
Jeez, man, you coulda squashed him!
PAUL
(He tentatively sits on the other chair) Sorry.
PATTY
Now, what can I do for you?
PAUL
You find missing imaginary friends, is that right?
PATTY
You betcha we do. Your imaginary friend, he, she, it's gone missing, right?
PAUL
That's right.
PATTY
Haven't seen hide nor hair of him, her, it, in a while, right?
PAUL
Correct.
PATTY
I'm sorry, Paul, gotta ask you this question before we go any further, ok? I've been in this business a while. Do you think it's possible you might have grown out of him, her, it?
PAUL
No, of course not. Why would I be here, looking for him?
PATTY
So, it's a him, right?
PAUL
Mmm…sort of.
PATTY
If you don't mind me asking, how old are you?
PAUL
Thirteen.
PATTY
Don't get me wrong but you do seem kinda old to be having an invisible friend. Invisible, or as we usually say, imaginary friends or companions, if you like, do tend to belong to kids quite a bit younger than yourself. You get what I'm sayin'?
PAUL
Well, you don't seem so young.
PATTY
How old do you think I am?
PAUL
I don't know – same age as me?
PATTY
(Addressing the empty chair.) Can it, will yer! The kid's a client. Have some respect – ok? (to Paul) I may look young, but hey, who can tell? I could be thirteen, like you, or I could be one hundred and four, who cares? You didn't come here to guess my age – right?
PAUL
But you do track down invisible friends. I have come to the right place.
PATTY
Oh you've come to the right place, I just wanted to make sure that your imaginary companion was still… active. Hadn't just, you know, faded away.
PAUL
He hasn't faded away – ok? He's just…missing. I want him back.
PATTY
So, you've had this imaginary friend for some time, am I right?
PAUL
Yeah, five years.
PATTY
Five years? (aside) You hear that, Billick? So I guess the two of you are pretty tight?
PAUL
Yeah, we're tight. We're very tight.
PATTY
Name?
PAUL
I told you – Paul.
PATTY
No, your IC's name.
PAUL
IC?
PATTY
Imaginary companion.
PAUL
Oh, right. He's called Gilly Gilly Ossenfeffer Katzenellen Bogen the third.
PATTY
Gilly Gilly..?
PAUL
Ossenfeffer Katzenellen Bogen the third.
PATTY
Gotcha. (addressing the empty chair) You got that, Billick? (to Paul) Is that Katsenellen with a 'c' or a 'k'?
PAUL
With a 'k'.
PATTY
(addressing the empty chair ) With a 'k'. (to Paul) When did he…when was the last time you saw…Gilly? You don't mind if we shorten it a little, otherwise, you know, bit of mouthful having to say Gilly Gilly Ossenffefer..?
PAUL
Katzsenellen Bogen the third.
PATTY
Right.
PAUL
No, sure. Gilly's fine.
PATTY
So when was the last time..?
PAUL
About a month ago.
PATTY
And nothing since then? Not even a glimpse?
PAUL
No, nothing.
PATTY
Ok, ok, let's start with a description. We're talking about a kid, right, not some animal, not some old guy with a beard and big scary hook for a hand? A kid, right, like you?
PAUL
No, not like me. He's sort of indescribable.
PATTY
(shaking her finger, addressing the empty
Why Subscribe?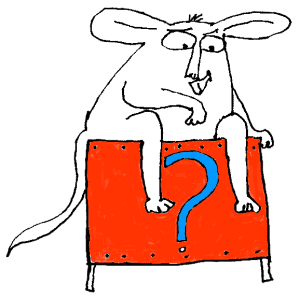 Inside Drama Notebook, you will find a huge collection of well-organized lesson plans, scripts for kids, drama activities, 50 drama games on video and more! Join today and dramatically reduce your planning time while delivering fresh, innovative drama lessons to your students! If you are new to teaching drama, this site will be a Godsend! You will immediately feel confident about teaching drama like an expert. The site guides you step-by-step and provides you with materials that you can use right away with your students.
If you have been teaching for years, Drama Notebook will inspire you with a fresh new approach and innovative ideas!
The site is packed with original, innovative lessons and activities that you will not find anywhere else—and new materials are added monthly.