8 characters; Flexible cast; 25 pages in length. Approximately 20-30 minutes running time. A drama for all ages written by Jordan R. Young.
The Man Who Loved Clocks is a one-act play about a poor old man named Abraham who treasures things of little value to others—buttons from old uniforms, odd-shaped rocks and leaves, and especially clocks. Abraham loves kids but has no grandchildren; he adopts unwanted and unloved clocks and gives them a home. When he realizes he has so many clocks there's no room to walk, he reluctantly donates them all to a museum. He visits his collection every day until one day he disappears. Museum employees soon discover a new grandfather clock that looks like Abraham, beard and all. This heartwarming play is perfect for all ages!
Jordan R. Young has written for The Los Angeles Times and The New York Times, and worked on special projects for The Grammy Awards and BBC Radio. His plays have been produced in Hollywood and Off Off Broadway; his books include Spike Jones Off the Record, Acting Solo, The Beckett Actor, Reel Characters and The Laugh Crafters. He is a native of Los Angeles.
Excerpt from the play:
ABRAHAM: made up to appear in his 70s.
NARRATORS: three or more; they take on various roles, including:
CAT
NEIGHBORS
MUSEUM CLERK
MUSEUM VP
MOVERS
CLEANING LADY
SECURITY GUARD
SETTING: A bare stage.
AT RISE: ABRAHAM and ENSEMBLE are standing on stage, an equal distance apart. THEY are all dressed as children.
ABRAHAM
Once there was a man named Abraham.
NARRATOR #1
He was named after a character in the Bible.
NARRATOR #2
And he was very, very, very, very, old.
ABRAHAM "becomes" the age described, in a purely physical manner or perhaps with the aid of makeup.
NARRATOR #3
He lived all alone…
ABRAHAM
In a tiny wooden house…
NARRATOR #1
On top of a great big hill.
NARRATOR #2
He hardly ever ever, ever, ever, talked to anyone.
NARRATOR #3
And no one hardly ever ever, ever, ever, talked to him.
ABRAHAM
Abraham wore a long black coat.
THE NARRATORS retrieve a coat from the wings and help ABRAHAM into it. THEY proceed to button it up during the following.
NARRATOR #1
It was very, very, very, very…
NARRATOR #2
Very…
NARRATOR #3
Very…
NARRATOR #1
Very…
NARRATOR #2
Very…
NARRATOR #3
Long.
NARRATOR #1
He also wore a big black hat.
NARRATOR #1 is handed a hat from the wings, which HE places on ABRAHAM's head.
NARRATOR #2
And he wore them day and night.
ABRAHAM
Abraham had a long white beard.
THE ENSEMBLE puts a beard on ABRAHAM. It appears to be relatively short—until THEY help HIM unroll it and discover the beard is two feet long.
NARRATOR #1
It was the longest…
NARRATOR #2
Thickest…
NARRATOR #3
Hairiest…
NARRATOR #1
Beard in the world.
NARRATOR #2
It was so thick he could not run a comb through it.
ABRAHAM demonstrates with an oversized red plastic comb HE produces from HIS coat pocket.
NARRATOR #3
But it was soft and warm.
NARRATOR #1
In the winter there were birds living in it.
Two toy birds, attached to dowels by strings, "fly" out of the beard with NARRATOR #1's help. NARRATOR #2 retrieves a nest with an egg.
ABRAHAM
Abraham was very poor and had very little furniture.
NARRATOR #1
There was a small bed where he slept…
NARRATORS #2 and #3 carry on a cot from the wings.
NARRATOR #2
An old chair…
NARRATOR #1 carries on a chair.
NARRATOR #3
A broken table…
NARRATORS #1 and #2 bring on a table.
NARRATOR #1
And a little refrigerator that almost never, ever, ever, ever, ever, had any food in it.
NARRATORS #2 and #3 carry on a shallow white cupboard designed to resemble a fridge.
NARRATOR #2
One day a cat came to visit Abraham.
SHE produces a mask from HER pocket and dons it to become the CAT.
NARRATOR #2/CAT
(to Abraham) What's for lunch?
ABRAHAM
You're too early.
NARRATOR #2/CAT
It's two o'clock and I'm hungry.
ABRAHAM
I don't serve lunch until 3.
Why Subscribe?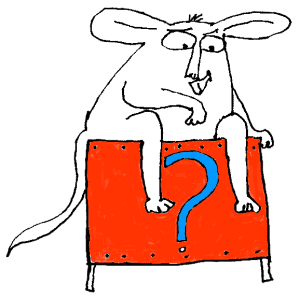 Inside Drama Notebook, you will find a huge collection of well-organized lesson plans, scripts for kids, drama activities, 50 drama games on video and more! Join today and dramatically reduce your planning time while delivering fresh, innovative drama lessons to your students! If you are new to teaching drama, this site will be a Godsend! You will immediately feel confident about teaching drama like an expert. The site guides you step-by-step and provides you with materials that you can use right away with your students.
If you have been teaching for years, Drama Notebook will inspire you with a fresh new approach and innovative ideas!
The site is packed with original, innovative lessons and activities that you will not find anywhere else—and new materials are added monthly.