12 characters. 5F, 7M, Flexible casting; 27 pages in length. Approximately 20-30 minutes running time. A jungle tale about kindess written by Daniel Guyton.
The Mean Old Elephant is the story of Ollie, a very grumpy elephant and his jungle neighbors. Poor Rhonda Rabbit loses her sixteen children, and all the animals jump in to help, all except Ollie, who just wants a nap. The more the animals disturb him, the angrier and more threatening he becomes. When Snedrick the Snake tries to sell some sleep potion to the sleep-deprived elephant, Ollie bullies him into giving it to him for free. The potion eventually puts him to sleep and that's when Snedrick decides to enact his revenge! Will the other jungle animals step in to protect Ollie? This fun play for children teaches compassion for animals and humans and the importance of kindness in all situations.
Daniel Guyton is an award-winning playwright and screenwriter from Atlanta, GA. His stage plays have been produced nearly 500 times around the world, and he has been published in over 40 anthologies and solo publications, including several of the Best American Short Plays collections. His play Three Ladies of Orpington recently won 7 awards from the Metropolitan Atlanta Theatre Awards. He is a theatre professor at Georgia State University and Georgia Military College, and is a member of the Dramatists Guild and the Writers Guild of America East. In addition, he is Vice Chair of the Fayette County Public Arts Committee, and Chair of the Professional Division of the Georgia Theater Conference.
Excerpt from the play:
CAST OF CHARACTERS
LEO the LEOPARD
TINA the TIGER
PAULA the PARROT
OLLIE the ELEPHANT
RHONDA the RABBIT
SNEDRICK the SNAKE
TERRY the TURTLE
ZEKE the ZEBRA
RYAN the RHINO
SALLY the SALAMANDER
ROGER the RABBIT
AMBER the AARDVARK
All characters can be played by any age, gender, or ethnicity. Names can be swapped for something similar if needed, like LEAH for LEO, TIMMY for TINA, ZEEZEE for ZEKE, etc.
SCENE 1
(LEO THE LEOPARD and TINA THE TIGER are playing in the jungle – laughing, running, and making noise, while PAULA THE PARROT flies around and imitates them)
LEO
Hahaha! You can't catch me, Tina!
PAULA
Squawk! Can't catch me! Squawk, squawk! Can't catch me!
TINA
Oh, yes I can, Leo!
PAULA
Yes, I can, Leo! Yes, I can! Squawk! Squawk!
(TINA catches him)
TINA
Haha! I caught you! Roar!
PAULA
Haha! I caught you! Squawk, squawk! Haha! I caught you! Squawk, squawk!
LEO
Oh, will you quit your squawking, Paula?!? You were distracting me! That's the only reason she caught me.
TINA
Oh, yeah right, that's not the reason.
PAULA
Squawk! Squawk! Yeah, right. That's not the reason.
LEO
Oh, hush.
TINA
I'm just faster than you, Leo. That's all.
LEO
Are not!
TINA
Are too!
PAULA
I'm just faster, Leo! Squawk! Squawk! I'm just faster!
LEO
YOU ARE NOT FASTER THAN M-
(Suddenly, OLLIE the ELEPHANT runs on-stage, mad as mad can be)
OLLIE
WHO?! IS MAKING ALL THIS NOISE?!? IN MY JUNGLE!?!?
(TINA, LEO, and PAULA freeze, and stare at OLLIE)
PAULA
(Quietly) Sorry. Squawk, squawk.
TINA
(To PAULA) What? Aren't you gonna imitate him?
PAULA
Oh, no. My momma didn't raise no fool. Squawk, squawk.
OLLIE
NOW! It is four o'clock in the afternoon and I am TRYING to take a nap!
LEO
Gosh, we're sorry, Ollie. We didn't know.
TINA
Yeah, we were just playing.
OLLIE
Well, play somewhere else, and GET OFF MY LAWN!
PAULA
Squawk! Lawn? But this is a jungle!
OLLIE
It's MY jungle, bird. And I'm the biggest one here. Now you best mind me, or I will spray you with water from my trunk and I will STOMP on you with my giant feet!
PAULA
(Flapping away frantically) Squawk! He's crazy! Squawk, squawk. The elephant's gone looney tunes!
OLLIE
That's right, Parrot. I am crazy. And I've got my eyes on you. Now are you gonna be quiet, or what?
PAULA
Squawk, squawk. We'll be quiet. Yes, sir. Squawk, squawk. We'll be on our best behavior. Squawk.
LEO
Cub scouts honor. (LEO does the Cub Scouts honor hand gesture)
OLLIE
Well… all right. But if you make me come back out here, there will be trouble. (OLLIE stomps back into the jungle, muttering) Punk kids. Have no respect for authority these days. (OLLIE exits)
LEO
Gosh, why is he so mean?
TINA
I don't know. But when did you join the cub scouts, Leo?
LEO
Um… hello? Leopard cub. I was kinda born into it.
TINA
Oh, yeah. Well, I'm a tiger cub, does that count?
LEO
Sure, why not?
TINA
Yay, I'm a cub scout!
PAULA
Well, this is just great. Squawk, squawk. Now what are we gonna do that we can't make any noises? Squawk.
TINA
Ooh! I know!
LEO
What?
TINA
We can play the mirror game!
LEO
Oh, yeah! Fun!
PAULA
The mirror game? Squawk, squawk! What's that?
TINA
Watch! We'll show you. You ready, Leo?
(TINA and LEO face each other and mirror each other's movements quietly. This goes on for a few moments before PAULA gets bored)
PAULA
Well, this is no fun for me, you two! Squawk, squawk! Who am I going to mirror with?
TINA
Well, I suppose you could…
(Suddenly, RHONDA THE RABBIT appears on stage)
RHONDA
HELP! HELP! MY CHILDREN ARE MISSING! HELP!
LEO
What? What's wrong?
RHONDA
I can't find my children anywhere! Oh please, you have to help me!
TINA
Well, ok, Mrs. Rabbit, we'll help you. How many are there?
RHONDA
All sixteen of them are missing!
LEO
All sixte
TINA
(Worried about OLLIE) Well, ok, we'll help you find them, but… listen. You have to keep your voice down, or else…
Why Subscribe?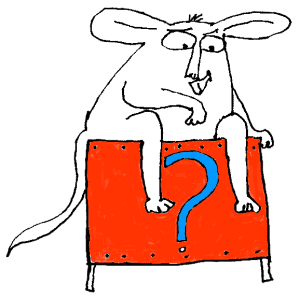 Inside Drama Notebook, you will find a huge collection of well-organized lesson plans, scripts for kids, drama activities, 50 drama games on video and more! Join today and dramatically reduce your planning time while delivering fresh, innovative drama lessons to your students! If you are new to teaching drama, this site will be a Godsend! You will immediately feel confident about teaching drama like an expert. The site guides you step-by-step and provides you with materials that you can use right away with your students.
If you have been teaching for years, Drama Notebook will inspire you with a fresh new approach and innovative ideas!
The site is packed with original, innovative lessons and activities that you will not find anywhere else—and new materials are added monthly.