12 characters. 6F, 6M, 17 pages in length. Approximately 15-20 minutes running time. An adaptation of Aesop's fable written by Denis Meadows.
The Mind-Boggling, Spine-Tingling Math Race Between Cottontails and Turtledoves is a mathematical adaptation of Aesop's fable, The Tortoise and the Hare. It's the sassy Cottontails versus the meek Turtledoves in a math competition like no other. Each team will have to solve difficult multiplication problems in order to cross the finish line. When the Cottontails get overconfident in their math abilities and decide to take a nap, the Turtledoves carefully take the lead. Will the Cottontails' decision to snooze cause them to lose the race? Find out in this fun comedy for children!
Denis Meadows was born in Pittsburgh and currently resides in Brooklyn. He is a Play Reader for the Young Playwrights Festival, a playwright-in-residence for The Acting Group, and a longtime member of the Dramatists Guild of America. His work has appeared in a variety of venues. Woodside Players of Queens presented A Brush against the Indifference of the Universe. Plays & Pizza presented two of his plays in Manhattan, Only Connect and Skip to My Loo. At Sea, Two Guys in Clerical Guise was produced by the Starlite Players in Sarasota, FL. Winterview was voted a finalist at The Secret Theater Festival in Queens, NY. He was named "Best Playwright" at the North Park Playwright Festival in San Diego and received the Judge's Award from Driftwood Players in Edmunds, WA. Full-length plays include The Root of All, In Flew Enzo, Irish Crossing, Shayna, Yes or No, Grit v. Gossip, That Limpid Pool of Delusion, and Edifice Wrecks.
Excerpt from the play:
CAST OF CHARACTERS
Judges:
FOX
FOXIE
Cottontails:
BILL
DYL
GIL
SPILL
WILL
Turtledoves:
BEA
DEE
LEE
TEE
VEE
On one side FOX and FOXIE sit on stools with a bell and index cards.
On the other are two straight white lines, one about a foot behind the other.
FOX AND FOXIE
Welcome, one and all, to the Mind-Boggling, Spine-Tingling Math Race between Cottontails and Turtledoves!
FOX
Come on out, Team Cottontails.
BILL, DYL, GIL, SPILL, and WILL enter with sass and swagger and line up behind the line.
FOX
When I call your name take a bow. Bill…Dyl…Gil…Spill…Will.
FOXIE
Your turn, Team Turtledoves.
BEA, DEE, LEE, TEE, and VEE enter meekly, in the face of COTTONTAILS' razzing, and line up beside them.
FOX
Now, now, be nice or we fox judges will be forced to disqualify you.
FOXIE
Cottontails, take a bow when I give you a shout-out: Bea…Dee…Lee…Tee…Vee.
FOX
You know the rules, right?
ALL nod.
FOXIE
Good. Now when I ring the bell, the race begins. At the second ring, stop running and prepare to answer ever-tougher multiplication questions.
FOX
A wrong answer means you have to drop out.
TEE
Bummer. I'm not so good at math.
LEE
Just give it your best shot.
FOXIE
After each round, when I ring the bell again, that's your signal to run for your lives.
FOX
The first team to cross the finish line wins.
DYL
Where's the finish line?
FOX
Right in front of your face.
DYL
That's it?
FOX
You got it.
FOXIE
All clear?
ALL nod.
WILL
By the way, what's the winner get?
TEE
Exercise.
FOX
Other than that, bupkis.
VEE
What's bupkis?
FOX
Nothing.
SPILL
Then what's the point?
FOXIE
Bragging rights.
GIL
Not fair. They have wings, they can fly.
FOX
Except for one thing: this is strictly a foot race.
BILL
(to Turtledoves) Then you birds don't have a chance. Too slow on your feet.
DYL
Yeah. We'll run circles around you.
DEE
If you do, you'll just get dizzy.
SPILL
Gimme a break!
WILL
What are you anyway, turtles or doves?
BILL
They're schizos.
BEA
Beats having only hare-brains to work with like you all.
COTTONTAILS
Oh, yeah?
TURTLEDOVES
Yeah.
COTTONTAILS
Yeah?
TURTLEDOVES
Yeah.
COTTONTAILS
Yeah?
TURTLEDOVES
Yeah.
FOX
Okay, enough of the trash-talking. Time to assume your starting positions.
ALL line up again.
FOXIE
Remember, wait for the bell.
TURTLEDOVES hold hands and raise them to the sky.
TURTLEDOVES
Go, Turtledoves!
COTTONTAILS do the same without holding hands.
COTTONTAILS
Go, Cottontails!
FOXIE
Ready, set, go!
COTTONTAILS begin sprinting in place while TURTLEDOVES don't even move. FOXIE rings the bell.
FOXIE
Stop.
FOX
False start.
LEE
Do they forfeit, then?
GIL
No fair.
FOX
We'll let them have a do-over.
FOXIE
Again, the bell. Wait for it. Ready, set, go!
FOXIE rings the bell. COTTONTAILS sprint in place while TURTLEDOVES "run" in slow motion. FOXIE rings the bell; ALL stop.
Why Subscribe?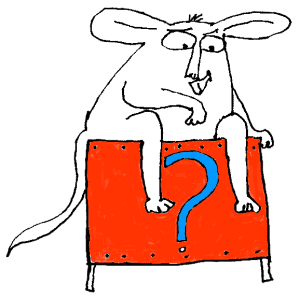 Inside Drama Notebook, you will find a huge collection of well-organized lesson plans, scripts for kids, drama activities, 50 drama games on video and more! Join today and dramatically reduce your planning time while delivering fresh, innovative drama lessons to your students! If you are new to teaching drama, this site will be a Godsend! You will immediately feel confident about teaching drama like an expert. The site guides you step-by-step and provides you with materials that you can use right away with your students.
If you have been teaching for years, Drama Notebook will inspire you with a fresh new approach and innovative ideas!
The site is packed with original, innovative lessons and activities that you will not find anywhere else—and new materials are added monthly.