8 characters; 2F, 6 Either; 20 pages in length. Approximately 15-20 minutes running time. A comedy for children written by Carlos Perez.
The Misadventures of Frog Girl is the story of a young girl who, unhappy with her appearance, tries to steal the horn of a unicorn to use for a transformation spell. When she demands and whines to have it, the unicorn decides to teach her a lesson by changing her into Frog Girl. In time, she learns that she should be happy with her appearance and only truly needed an attitude adjustment. This comedy invites audience participation and is perfect for children!
Carlos Perez has a M.A. in English from the University of Missouri—Kansas City (a professional writing degree in playwriting and screenwriting) and a B.F.A. in Speech and Theatre from Avila University.  His recognized stage plays include Caught Between Two Worlds, published by Dramatic Publishing and Folktales for Fun, published by Pioneer Drama Service, Inc.  Carlos' latest stage play In Hyding, an adaptation of the novel Dr. Jekyll and Mr. Hyde, recently received a staged reading at the Monster Box Theater in Waterford, Michigan.  His one act stage play Two Good Reasons placed second the 2016 William Faulkner Literary Awards, giving him two years in a row of success for that competition, with his original play Cleansing Acts placing in the 2015 William Faulkner Literary Competition.  A full production of Cleansing Acts premiered at the 2013 LaBute New Theatre Festival in St. Louis, Missouri by the St. Louis Actors' Studio, and was named winner of the Riverfront Times newspaper's Best of 2013 Stage Plays.
Excerpt from the play:
CAST OF CHARACTERS
STORYTELLER ONE:  M or F
STORYTELLER TWO:  M or F
LITTLE GIRL:  F
UNI, THE UNICORN:  M or F
MISCHIEF, THE TROLL:  M or F
FROG-GIRL:  F
GOBLIN:  M or F
TRAGON, THE DRAGON:  M or F
PROPS
Unicorn mask, frog mask, goblin mask, dragon mask, troll puppet or troll mask, mirror, and banner
COSTUMES
Unicorn, Frog, Goblin, Dragon, and Troll, if wanted
(At Rise:  Both STORYTELLERS are on stage.)
STORYTELLER ONE
Good morrow from two of us to all of you.
STORYTELLER TWO
What a fun tale we have to perform for you.
STORYTELLER ONE
Our play is filled with song and verse.
STORYTELLER TWO
And took many days to rehearse.
STORYTELLER ONE
Many of the funny songs in this show.
STORYTELLER TWO
From your childhood you may already know.
STORYTELLER ONE
The tunes may be the same.
STORYTELLER TWO
But the lyrics have changed.
STORYTELLER ONE
Please delight in the simple way.
STORYTELLER TWO
We've changed the lyrics for this play.
STORYTELLER ONE
Without the great seer, Nostradamus
STORYTELLER TWO
-this could not have come to pass
STORYTELLER ONE
For he is the only one among us
STORYTELLER TWO
-who can tell the future and the past.
STORYTELLER ONE
All of you out there now join with us today.
STORYTELLER TWO
When we ring our bells this is what you're to say.
BOTH STORYTELLERS
Bubble, bubble, toil and trouble,
change your costume on the double.
Eye of newt and toe of bat,
change your costume just like that.
STORYTELLER ONE
Once we've said that phrase together, then one of us must flee
To become one more character, for all of you to see.
(STORYTELLER ONE leaves the stage.)
STORYTELLER TWO
(to audience)
Our story begins in the land of fairy tales and dreams.
Where there are plenty of strange characters to be seen.
In this land there are Unicorns, trolls and dragons,
that drink hot ale out of scale crested flagons.
Do you want to see our first character for today?
Then let's all now say what we taught you to say.
(STORYTELLER TWO rings his bells, points at the banner for the rhyme and sings along with the audience.)
STORYTELLER TWO
(with audience)
Bubble, bubble, toil and trouble,
change your costume on the double.
Eye of newt and toe of bat,
change your costume just like that.
(STORYTELLER ONE enters dressed as UNI, the Unicorn.)
STORYTELLER TWO
We begin with UNI the Unicorn, which is not so strange,
considering he's roaming along on a fairy tale range.
Good Morrow, UNI the Unicorn, and how fare you today?
STORYTELLER ONE / UNI
Today is very early and it's difficult to say.
I think I'm being followed, and I'm not quite sure by who.
I hope it's not a hunter, cause I don't know what I'd do.
STORYTELLER TWO
(to audience) But why would someone hunt such a friendly pretty beast?
STORYTELLER ONE / UNI
To steal away my gold horn, to say the very least.
(STORYTELLER TWO exits to change.)
STORYTELLER ONE / UNI
(to audience)
I hope there isn't something bad a hiding in the trees.
Just the thought of something scary gives me shaky knees.
Perhaps it's just a deer a walking through the leaves
Or maybe just a lonely rabbit chewing on some weeds.
If something bad is what we soon shall see.
Do you all promise that you will help me?
(response)
Oh thank you, now I know what to do.
I'll just get some help from all of you.
Uh oh, I think it's time for us to see
Who has been in the forest, after me.
(STORYTELLER ONE / UNI rings his bells And points at the banner.)
STORYTELLER ONE / UNI
(with audience)
Bubble, bubble, toil and trouble,
change your costume on the double.
Eye of newt and toe of bat,
change your costume just like that.
Why Subscribe?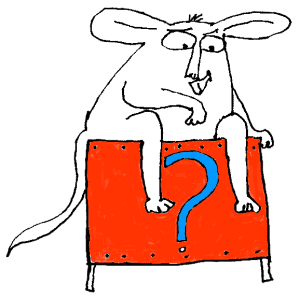 Inside Drama Notebook, you will find a huge collection of well-organized lesson plans, scripts for kids, drama activities, 50 drama games on video and more! Join today and dramatically reduce your planning time while delivering fresh, innovative drama lessons to your students! If you are new to teaching drama, this site will be a Godsend! You will immediately feel confident about teaching drama like an expert. The site guides you step-by-step and provides you with materials that you can use right away with your students.
If you have been teaching for years, Drama Notebook will inspire you with a fresh new approach and innovative ideas!
The site is packed with original, innovative lessons and activities that you will not find anywhere else—and new materials are added monthly.