12 characters. 6F, 6M; Flexible casting; 27 pages in length. Approximately 30 minutes running time. A canine comedy with puppets written by Patricia Lawler Kenet. * There is a very subtle reference to death. (5 credits)
The Ugly Dogling or Last Chance Tuesday is a comedy about Fayo, a one-eyed dog, who needs a forever home. Though he puts his best face forward, he's been left behind. With the help and enthusiasm of his kennel mate, and despite the disparaging comments of another, Fayo meets a lady named Joanie who's willing to give him a try. A sweet comedy for children and middle-schoolers with three parts for puppeteers!
Patricia Lawler Kenet is an attorney and writer. She has written two non-fiction books and her essays have appeared in Slate.com, The New York Times, New York Newsday and The Fiction Pool. She is a board member of the National Alliance on Mental Illness (NYC-Metro). She is a student at The Magnet Theatre and formerly the United Citizens Brigade where she was a UCB Fellow. She has also taken classes at the Barrow Theater Group.
Excerpt from the play:
CAST OF CHARACTERS
FAYO: a 20-pound mutt with wiry hair, some bald patches.
DELPHINE: a high-strung, mean-spirited Afghan Hound
SUZEI: a slightly pudgy poodle mix with a beautiful heart
KENNEL KEEPER
FATHER
SON ONE
SON TWO
LITTLE BOY
WOMAN
JOANIE: 60
LITTLE GIRL
PAM: curly gray hair
Please note:
Dog characters: FAYO, SUZIE and DELPHINE will be played by live-hand and/or rod puppets.
Scene 1: A dog shelter. Early morning.
Cinder block walls, a concrete floor, and a series of cages. The dimness gradually brightens as a glint of the rising sun peeks through a window, and the flicker of overhead lights signals the start of a new day. A broom rests against the wall.
Inside the cages:
FAYO, a 20-pound mutt with wiry hair, some bald patches. Fayo's back is to the stage, so we don't see his face right away.
DELPHINE, a high-strung, mean-spirited Afghan Hound facing front. A sign on her cage, which faces front, reads "WARNING" followed by fine print.
SUZEI, a slightly pudgy poodle mix with a beautiful heart, also facing front across from Fayo.
The KENNEL KEEPER walks in, a little wearily. He wears a long sleeve uniform shirt, long pants and a wool cap. He carries three empty bowls, a bag of food and a scoop. Two of the bowls are red plastic and one is stainless steel. (note that while dogs talk, Kennel Keeper and other humans don't actually hear/understand or respond to them.)
KENNEL KEEPER
Chow time. Who wants breakfast?
Fayo barks politely, Suzei joins in, and Delphine grumbles. The Kennel Keeper stands still for a moment and looks at the dogs. Fayo paces left and right, trying to catch his reflection in the stainless steel bowl. He gets a distorted glimpse, then gives up. The Kennel Keeper carefully places the stainless bowl outside of Delphine's cage. Then he pushes the filled bowl into Delphine's cage through a small door, with a broomstick. Delphine growls.
KENNEL KEEPER (CONT'D)
Talk about bitin' the hand that feeds you! You settle down, Delphine. Had to get you this bowl after you chewed up the other ones.
Delphine haughtily sniffs at the food.
KENNEL KEEPER (CONT'D)
Take it or leave it.
Delphine takes a nibble.
KENNEL KEEPER (CONT'D)
That's a girl.
He then goes to Suzei who wags her tail with anticipation.
KENNEL KEEPER (CONT'D)
Little Suzei. How you gettin' on today?
She gobbles the food.
KENNEL KEEPER (CONT'D)
Slow down. Nothing 'till dinner. So take your time.
He then goes to Fayo.
KENNEL KEEPER (CONT'D)
Look alive, Fayo, it's visiting day.
Fayo stands up against the bars and presses his face toward the man.
KENNEL KEEPER (CONT'D)
Good luck.
The Kennel Keeper walks out.
FAYO
Did you hear that?
No answer as Suzei gobbles and Delphine grumbles.
FAYO (CONT'D)
I'm so greatly excited.
No answer.
FAYO (CONT'D)
Visitors. You know what they say?
No answer.
FAYO (CONT'D)
Good things happen if you are good. And try, try. And you can't always lose. And…there's a lid and a pot and keep a smile in your pocket.
DELPHINE
Good lord, Fayo. What kind of nonsense are you babbling about today?
FAYO
People are coming. People with…houses and beds and yards of yards.
DELPHINE
You were here when I got here and you'll be here when I go. You were here when Suzei got here and that was even before me. Every time I ask how long you've been here, you give me a different answer. That's because you don't even remember anymore.
FAYO
I know how long, Delphine. One hot summer. One rainy fall. One windy winter. We had chicken on…Santa's Day. Remember?
DELPHINE
Christmas, Fayo. And now it's spring.
SUZEI
Smell the grass out there? I love grass. I love wet grass and muddy dirt under the wet grass. I love the way it squishes into my paws.
DELPHINE
Look who decided to come up for air? (back to Fayo) So you see, Fayo, that means almost a year has gone by. Almost a year for you. Fifty-one Tuesdays.
FAYO
So?
SUZEI
So?
DELPHINE
They don't keep us forever. Sometimes…
SUZEI
…Delphine…we don't want to hear your ideas, please. Nobody knows for sure what happens.
DELPHINE
Ha. Guess what today is, Fayo? It's Tuesday.
A red light flashes on and off. Delphine turns her back on the two other dogs and rolls into a ball. It's quiet for a while. After a few more seconds, Fayo continues to angle for a glimpse of himself in the stainless bowl.
SUZIE
What're you doing?
FAYO
Trying to see what I look like.
SUZIE
That's not a mirror. It's a bowl.
Fayo continues to try to look and gets a distorted glance.
SUZEI
Do you have any idea what you look like?
FAYO
I never gave it much thought till just now. I saw a peek and a peck of me in the bowl mirror…kind of stretchy. I want to see again. (He catches a glimpse.) Is it important to look as lovely as you do, Suzei?
SUZEI
Owww. Thanks, Fayo. Before I came here I lived with a nice man who took me to a place…called a gromer (sic). Kind of hard to remember…it was a long time ago.
FAYO
I know what you mean.
SUZEI
They put me into a sink filled with water and they squirted a terrible sweet liquid on me, and rubbed my body until white bubbles popped out. Then they pulled something from the wall that looked like a silver snake that squirted more water. I kept shaking that water off. Then they blew hot air on my body with a black gun, and dragged something with teeth through my curls. A comb.
FAYO
A comb?
SUZEI
A comb. Then something buzzing, BUZZ. BUZZ. Buzzing like a bee made my hair fall out.
FAYO
A bee! Your curls! A snake? A gun! (he pauses and smiles) Bubbles!
SUZEI
After, when I got home, the man said I looked beautiful, but I actually felt itchy and tired, and smelled awful. Like a minty banana.
FAYO
But he liked you because you were beautiful?
SUZEI
Yes. He did. But then…
FAYO
I know.
Why Subscribe?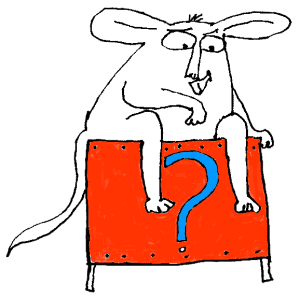 Inside Drama Notebook, you will find a huge collection of well-organized lesson plans, scripts for kids, drama activities, 50 drama games on video and more! Join today and dramatically reduce your planning time while delivering fresh, innovative drama lessons to your students! If you are new to teaching drama, this site will be a Godsend! You will immediately feel confident about teaching drama like an expert. The site guides you step-by-step and provides you with materials that you can use right away with your students.
If you have been teaching for years, Drama Notebook will inspire you with a fresh new approach and innovative ideas!
The site is packed with original, innovative lessons and activities that you will not find anywhere else—and new materials are added monthly.