13 characters. 10 minutes running time. Play warning about the dangers of drug and alcohol use among teenagers.
What Should You Do is a comedic exploration of what to do when faced with the pressure to smoke cigarettes, take drugs, or drink alcohol. The play, suitable for ages 8-14, is perfect for Red Ribbon Week or similar substance abuse/peer pressure awareness programs.
About the Author…
Anne Flanagan is a playwright, teacher and avid reader. Anne is the recipient of several writing awards and zero sports trophies. Publications include her comedy Artifice (Dramatic Publishing) as well as many anthologies. Anne has taught public school in New York City and Southern California. She currently teaches Theater in Los Angeles, CA for grades K – 6 and loves it.
WEB: www.anneflanagan.net
Excerpt from the play:
Characters:
ADAM – TV Host
ROBYN – TV Host
BRAINY BOB – Contestant
SMART SUE – Contestant
GEORGE – Contestant
DR. SALK – Inventor of the Polio Vaccine
FLORENCE NIGHTINGALE – Mother of Nursing
DR. FRANKENSTEIN – Maker of Monsters
ACTORS (Minimum of 2 actors; maximum of 6)
STAGEHAND #1
STAGEHAND #2
Non-Speaking Roles:
THE JUDGES
THE STONERS
Setting: TV Studio; the set of Game Show What Would You Do?
Note: If possible, replace the "Goat" prize with your school's mascot (i.e. The Smith School Bull Dog.)
TV studio. Game show hosts ADAM BOMB and ROBYN BANKS greet the studio audience.
ADAM
Ladies and Gentlemen! It's time for everyone's favorite game show.
ALL
"What Should You Do?!"
ADAM
I'm your host, Adam Bomb.
ROBYN
And I'm Robyn Banks. Ready to play?!
The crowd cheers. Adam approaches the expert panel.
ADAM
First, let's say hello to our panel of medical experts.
DR. SALK
I'm Dr. Jonas Salk. I invented the polio vaccine.
FLORENCE
I am Florence Nightingale. I founded the Red Cross and am known as the Mother of modern nursing.
DR. FRANKENSTEIN
I am Doctor Frankenstein. In my exploration for eternal life, I unfortunately created a terrible, horrible –
ADAM
Never mind!
DR. FRANKENSTEIN
Hey, we all make mistakes.
ROBYN
Let's meet our contestants: Brainy Bob, Smart Sue and George!
Bob, Sue and George wave to the audience.
ROBYN (CONT'D)
And say hello to the judges!
The Judges nod sagely.
ADAM
Contestants, are you ready to answer the question…
ALL
What Should You Do?!
ROBYN
If the judges give you a thumbs up, you stay in the game.
ADAM
But if it's thumbs down, you will be turned to STONE!
ROBYN
Yikes! Beware of Stoners!
The Stoners, dressed in dark robes, wave their magic wands menacingly.
ROBYN
If you are NOT turned to stone, you win the grand prize.
ADAM
The world-famous GOAT! Bob, you're our first contestant. Watch closely.
DRUM ROLL as 2 ACTORS enter.
ACTOR #1
Hey, want a cigarette?
ACTOR #2
I don't know…
ACTOR #1
Come on, cigarettes won't hurt you!
Actors # 1 & # 2 freeze.
ADAM
Bob – What Should you Do?
BOB
I should smoke the cigarette!
All judges show thumbs DOWN! Crowd BOOS.
DR. SALK
Sorry, Bob. Cigarettes cause cancer, and cancer can kill you.
BOB Noooo!
The Stoners wave their wands and Bob turns to stone (freezes.) 2 STAGEHANDS in dress blacks "carry" Bob offstage.
ROBYN
Wow, that's cold.
ADAM
Stone cold to be exact.
ROBYN
Sue, it's your turn!
Why Subscribe?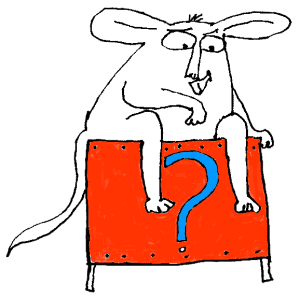 Inside Drama Notebook, you will find a huge collection of well-organized lesson plans, scripts for kids, drama activities, 50 drama games on video and more! Join today and dramatically reduce your planning time while delivering fresh, innovative drama lessons to your students! If you are new to teaching drama, this site will be a Godsend! You will immediately feel confident about teaching drama like an expert. The site guides you step-by-step and provides you with materials that you can use right away with your students.
If you have been teaching for years, Drama Notebook will inspire you with a fresh new approach and innovative ideas!
The site is packed with original, innovative lessons and activities that you will not find anywhere else—and new materials are added monthly.