15+ characters, flexible casting, approximately 15 minutes. Comedy script that combines Aesop's fables, "The Lion and the Mouse" and "The Tortoise and the Hare".
Two of Aesop's beloved tales—"The Lion and the Mouse" and "The Tortoise and the Hare"—are "remixed" with dramatic flair and fresh wrinkles.
Playwright Bio:
Novelist, poet, playwright, performer, and screenwriter, John Biscello, is the author of four novels; Broken Land, a Brooklyn Tale, Raking the Dust, Nocturne Variations, and No Man's Brooklyn; a collection of stories, Freeze Tag, two poetry collections; Arclight and Moonglow on Mercy Street; and a fable, The Jackdaw and the Doll, illustrated by Izumi Yokoyama. He also adapted classic fables paired with the vintage illustrations by artist Paul Bransom for the collection: Once Upon a Time, Classic Fables Reimagined. His produced, full-length plays include: LOBSTERS ON ICE, ADAGIO FOR STRAYS, THE BEST MEDICINE, ZEITGEIST, U.S.A., and WEREWOLVES DON'T WALTZ. He is the founder and director of the Taos Youth Ensemble, a theater collective, and as an independent drama educator, he has worked in various schools, creating plays with grades ranging from K through high school.
Excerpt from the play:
CHARACTERS:
EMCEE #1
EMCEE #2
NARRATOR #1
NARRATOR #2
NARRATOR #3
LION
LAKE (played by several actors)
BERRY BUSH
MOUSE
PALM TREE/PALM READER
HUNTER #1
HUNTER #2
HARE
TORTOISE
STUDENT HARE #1
STUDENT HARE #2
FOX
LYNX
FLYING SQUIRREL
(Optional extras: Woodland animals)
SETTING: The realm of fables
EMCEE #1:
There once was a man named Aesop.
EMCEE #2:
Or maybe there wasn't.
EMCEE #1:
And he wrote stories starring animals.
EMCEE #2:
Lions, and tigers, and hares—oh my!
EMCEE #1:
And these stories had morals.
EMCEE #2:
A moral is a practical lesson or principal truth.
EMCEE #1: (to EMCEE #2)
Well said.
EMCEE #2: (to EMCEE #1)
Thank you.
EMCEE #1:
We begin with—
EMCEE #1/ EMCEE #2:
The Lion and the Mouse.
(EMCEE #1 and EMCEE #2 exit.)
(A NARRATIVE CHORUS, made up of three actors, enters.)
NARRATOR #1:
Once a beautiful golden lion came pawing through the jungle.
(LION paws onstage.)
NARRATOR #2:
He thought he was great, and he roared—
LION:
I am King of the Jungle! How cool is that?
NARRATOR #3:
He saw a shimmering lake.
(Several actors, who should already be onstage when the play begins, represent a LAKE. Perhaps wearing blue fabric, hands linked. They should also have bells on their wrists or legs. When #3 says the word SHIMMER, the LAKE jingles its bells.)
NARRATOR #1:
The Lion was thirsty.
NARRATOR #2:
So he pawed over to the lake and lapped the cool water with his long, rough lion tongue.
LAKE:
Oww, that's scratchy.
NARRATOR #3:
Now the lion was tired.
(LION yawns.)
NARRATOR #1:
He saw a swaying palm tree.
(Actor who is playing the PALM TREE stands perfectly still.)
NARRATOR #2:
She said—he saw a SWAYING palm tree.
(PALM TREE walks over to the NARRATIVE CHORUS and complains.)
PALM TREE:
Why do I get stuck playing the palm tree? I'm supposed to stand here and sway, while the lion gets to roar, and the lake gets to shimmer.
(LAKE jingles its bells.)
PALM TREE:
Well, I'm not doing it.
(PALM TREE stands there, defiant, arms tightly folded.)
(NARRATIVE CHORUS huddles together, whispering to each other.)
NARRATOR #3:
The lion saw a great palm reader.
(PALM TREE is happy and transforms into a PALM READER.)
PALM READER:
Come over Mr. Lion and let me read your palm. Uh, your paw.
(LION heads over to the PALM READER and offers up his paw. PALM READER reads it.)
PALM READER:
Well, I see here that you'll soon be in great danger.
(LION retracts his paw and looks at it.)
LION:
Weren't you a tree five seconds ago?
(PALM READER nods.)
Why Subscribe?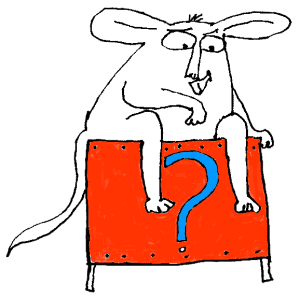 Inside Drama Notebook, you will find a huge collection of well-organized lesson plans, scripts for kids, drama activities, 50 drama games on video and more! Join today and dramatically reduce your planning time while delivering fresh, innovative drama lessons to your students! If you are new to teaching drama, this site will be a Godsend! You will immediately feel confident about teaching drama like an expert. The site guides you step-by-step and provides you with materials that you can use right away with your students.
If you have been teaching for years, Drama Notebook will inspire you with a fresh new approach and innovative ideas!
The site is packed with original, innovative lessons and activities that you will not find anywhere else—and new materials are added monthly.