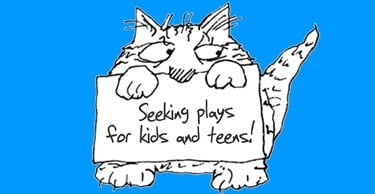 UPDATE SUMMER OF 2020
Thank you for your interest in submitting a play to Drama Notebook.
We are taking a break from accepting new submissions in order to focus on promoting our existing playwrights.
Submissions will re-open in late fall of 2020. Stay safe and well!
–Janea Dahl, Author, Drama Notebook
~INFORMATION FOR FUTURE SUBMISSIONS~
Have you written plays for kids and teens and simply want to have them used and performed?
Drama Notebook is accepting play script submissions from playwrights, teachers, and actors who have written scripts or scenes for children and teens. We are building a huge library of royalty-free, high-quality scripts for use in educational settings.
Most drama teachers pay for materials out-of-pocket, and cannot afford to pay royalties, per-script fees, video fees, etc. By sharing your work, you will be benefiting thousands of educators in over 100 countries.
We can either license your script for a small fee, or purchase the copyright for a slightly larger amount. This is not life-changing $ to be sure, but you will experience the joy of knowing that your work is being performed by students all over the world.
When we publish your script, we include your bio, a link to your website (if applicable), and a way for teachers to contact you when their students perform your play!
Ready to submit your plays?
1. Download more detailed information below.
2. See an example of a formatted script.
3. Download our handy script template (optional).
4. Fill out the play submission form.
What to expect after submitting your play…
We will write you right back and let you know that we received your piece, and will read it and get back to you as soon as possible. If your script is accepted, we will send out a simple license or copyright agreement, complete your payment and get to work on formatting your play. It usually takes a few weeks to publish each script.