6 characters. 10 pages in length. Approximately 10-15 minutes running time. A comedic radio play written by Ruth Landowne-Giordano.
Jack and the Beanstalk is a radio play adaptation of the classic fairy tale, where everyone gets to participate in the action!  Sound effects are generated live, using household items and actors' voices.  Best of all, as Jack plants his magic beans and climbs the beanstalk, he awakens a not-so-friendly giant, played by THE AUDIENCE. It's storytelling like the old days!
Ruth Landowne-Giordano is pleased to join the writers at Drama Notebook.  She has been active in the performing arts since early childhood ballet, teen years on – and backstage at the Brown Ledge Camp theatre, College years following the urge to perform at the O'Neill Memorial Theatre Center. Facing adulthood, she turned to costuming and then took time out for family. Years later: adapting plays and stories for radio drama. Producing and directing both live shows and recordings-for-broadcast in Taipei, Taiwan. Recently returned to Massachusetts and learning more about audio recording as a means to preserve radio dramatic works.
Excerpt from the play:
CAST OF CHARACTERS
NARRATOR 1
NARRATOR 2
JACK
MOTHER
COW
STRANGER
NARRATOR 1
Once upon a time, there was a boy named…
MOTHER (yelling for him to wake up)
Jack!
NARRATOR 2
He lived with his…
JACK (sleepily)
Mother!!
NARRATOR 1
Jack and his mother lived on a farm.
SOUND: noisy farm animals
NARRATOR 2
Actually, it was a very small farm.
SOUND: weak farm animals
NARRATOR 1
The fact is, they had only one cow.
SOUND: hooves clomping
SOUND: + cowbell
COW
Moo.
NARRATOR 2
And every morning
SOUND: rooster
while he was trying his best to sleep late, he would hear:
MOTHER(yelling, as before)
Jack!
JACK(sleepily)
Yes, Mother.
MOTHER
It's time to milk the cow!
JACK
Yes, Mother.
NARRATOR 1
So, he did.
SOUND: cow bell
+ squirt, squirt
MOTHER
And Jack!
JACK
Yes, Mother?
MOTHER
Take the milk to market.
JACK
Yes, Mother.
NARRATOR 2
Every day, Jack took the milk to sell at the market.
SOUND: footfalls    
NARRATOR 1
Now –
SOUND: MUSIC
At the time Our Story takes place, in the place where our story takes place,
conditions were harsh…
NARRATOR 2
There was a drought –
NARRATOR 1
No rain.
NARRATOR 2
and famine.
NARRATOR 1
No food.
NARRATOR 2
And general malaise.
NARRATOR 1
No fun.
Why Subscribe?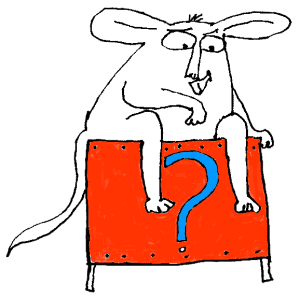 Inside Drama Notebook, you will find a huge collection of well-organized lesson plans, scripts for kids, drama activities, 50 drama games on video and more! Join today and dramatically reduce your planning time while delivering fresh, innovative drama lessons to your students! If you are new to teaching drama, this site will be a Godsend! You will immediately feel confident about teaching drama like an expert. The site guides you step-by-step and provides you with materials that you can use right away with your students.
If you have been teaching for years, Drama Notebook will inspire you with a fresh new approach and innovative ideas!
The site is packed with original, innovative lessons and activities that you will not find anywhere else—and new materials are added monthly.