8 Characters, flexible casting. Approximately 10 minutes long. Short, black box play about two teens dealing with the cruelty of online bullying.
Teens often face cruelty and bullying on social media. This one-act play explores these challenges and what those targeted can do to protect themselves. Each member of the chorus plays a different "social media platform." This short play is a great choice for competitions or when focusing on Social Emotional Learning.
Konrad Rogowski has worked in community theatre for more than 40 years as an actor, director, and playwright, and as president and publicity manager with the Suffield Players, at historic Mapleton Hall in Suffield, CT. He is the recipient of the MCC Career Achievement Award, and numerous ACT/CONN awards for acting and direction. His works have been produced locally, with his drama "Being of Sound Mind," winning the ACT/CONN Best Connecticut Production Award. His current focus is on writing and marketing his plays to a wider audience, and he is delighted to have his work included in the Drama Notebook.
CHARACTERS
GWEN SIMMS – A teen with a brand-new phone
KATHERINE OLIVIA BROWN/KAT – A teen with an old phone
THE CHORUS* – Six teenage girls with too much time and too many phones. Each chorus member is named after a social media app.
TIKTOK, FACEBOOK, YOUTUBE, SNAPCHAT, TWITTER, INSTAGRAM
Scene: An open space with a small bench.
Time: Present day.
At Rise: A black box set. In the dark, we hear the chaotic ringing of dozens of cell phone tones, and as the lights come up we see six young girls each with a cell phone and each wearing a website logo on their heads: TikTok, YouTube, Twitter, Instagram, Snapchat, and Facebook. They break into a rapid recitation of gossip delivered with lots of attitude and "looks" as the ringing continues.
TIKTOK
She's so stupid, all you've got to do is look at her to know that!
FACEBOOK
Where does she get those clothes, her grandma's closet?
YOUTUBE
I understand her dad drinks a lot, with her as a daughter who wouldn't?
SNAPCHAT
Who'd ever go out with her? She's a dog!
TWITTER
Not just that, she smells funny too! They all do.
INSTAGRAM
Her mom always looks like something the cat dragged in.
TIKTOK
Why do they all dress like that? Are they really poor, or part of some weird cult?
FACEBOOK
And that hair, if that's the best she can do, just cut it all off, please!
YOUTUBE
What a loser, she's got the lamest, most pathetic friends and life ever!
SNAPCHAT
Of course, the boys like her, and we all know why!
TWITTER
Well look at where she lives, her type needs to be kept… separate.
INSTAGRAM
You sure won't find anybody like her kind in my neighborhood! We still have some standards.
(Just then Gwen Simms bursts through the line of girls, angry and upset, pushing them aside. She is a "plain" person in looks, clothing, and general style. She comes charging forward, then pacing back and forth, yelling at her phone.)
GWEN
I hate you! I hate you all! Leave me alone!
(She throws the phone across the stage almost hitting KAT who is sitting alone on a small bench. KAT is just the opposite of GWEN in style, decked out with lots of jewelry, heavy makeup, and a couple of tattoos. CHORUS RESPONSE: they give GWEN a shocked and dramatic "How dare you?!" look for dumping them and her phone. They hold each pose until their next response.)
KAT
Hey, watch what you're doing! What are you throwing that at me for? You could've hurt me!
GWEN
Well, it's hurt me plenty, and now it's my turn to get back at it.
KAT
Yea, well that's no reason to act like a jerk and hurt anybody who gets in your way. A little respect for the rest of us poor innocent humans?
GWEN
(With some attitude.) Well, I didn't see you there, so sorry. (Starts over to her.) Now where's my phone?
KAT
(Quickly picking up the phone.) I've got it, but I'm not sure I should give it back to you.
GWEN
What? You're not my mother! Now give me my phone.
(CHORUS RESPONSE: they hold out their hands at arm's length with a snotty demanding look.)
KAT
Hey, you threw it away. (Looking the phone over.) Wow, this is that brand-new one too. You know what this thing costs? And you threw it away? (Pulls out her phone.) Look at the piece of junk phone I've got.
GWEN
O.K., so it's junk, but you've still got one, so we're even, so give me my phone. (KAT looks long and hard at her, waiting. GWEN hesitates, then takes a deep breath.) May I have my phone… please?
KAT
(Holding out the phone, as GWEN takes hold of the other end.) All right, (Not letting go of the phone, the two of them tug at it.) but honestly, you're not going to throw it at me again are you?
GWEN
No. Promise. (KAT lets go.) Thanks.
KAT
You must have been pretty mad at somebody to fling that thing at me.
GWEN
I was. I am! But not at you. I wasn't trying to hurt you. I just wanted to make it stop.
KAT
Make what stop? Your phone? You're lucky that eighty-five-dollar case just saved it from ending up in the trash. So, what's the story, Gwen?
GWEN
(Surprised. Defensive) How do you know my name?
KAT
(Laughs and shakes her head.) I sit behind you in two classes. Not that you'd ever notice. I tend to be pretty invisible to most people. (CHORUS RESPONSE: They hold their hands up to their foreheads with the "L" for loser sign.)
GWEN
Katherine Olivia Brown? A.K.A. "Kat," invisible? You couldn't be more obvious.
KAT
What's that supposed to mean?!
GWEN
Well… just that you're… different, that's all. Nothing bad… just different.
KAT
(Thinks about it.) O.K., I'm going to let that slide. So, now that we're acquainted, what's the story? Who are you mad at, and why?
GWEN
Oh, you wouldn't understand it's very…
KAT
What? Do I look stupid or something? I've had to deal with a lot of serious stuff in my short life, so I think I can handle whatever it is, so give. You owe me that much.
GWEN
(Hesitate, then starts.) Yea, sorry. It all started when I saw some stuff online about my dad.
KAT
Why? What did he do, rob a bank or something?
Why Subscribe?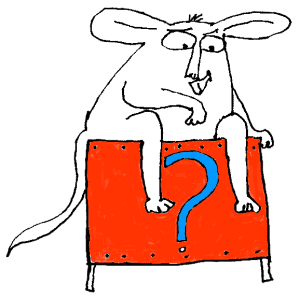 Inside Drama Notebook, you will find a huge collection of well-organized lesson plans, scripts for kids, drama activities, 50 drama games on video and more! Join today and dramatically reduce your planning time while delivering fresh, innovative drama lessons to your students! If you are new to teaching drama, this site will be a Godsend! You will immediately feel confident about teaching drama like an expert. The site guides you step-by-step and provides you with materials that you can use right away with your students.
If you have been teaching for years, Drama Notebook will inspire you with a fresh new approach and innovative ideas!
The site is packed with original, innovative lessons and activities that you will not find anywhere else—and new materials are added monthly.