2 characters. Ten minutes running time. Comedic scene in which a gift is awkwardly given and received.
This quirky scene is reminiscent of Monty Python, and offers a variety of character choices for young actors. Depending on the director's choice of character relationship, the essence of the play can be transformed radically. It can be read once as an exchange between siblings, then as a conversation between a teacher and a student, a romantic couple, or coworkers, and each time it reads as a completely different scene!
About the Playwright
Jeff Dunne is a playwright living near Baltimore, but his plays have been produced across the United States, Canada, and the United Kingdom. Both his full-length plays and shorter one-act scripts have won numerous festivals and competitions with professional and amateur theaters, and several works have been either written for or adapted to film. Jeff's focus in writing is to encourage people to see life from new perspectives, to open their minds to alternate interpretations and possibilities with respect to things that they might otherwise take for granted. When not writing, Jeff enjoys acting (not nearly enough) and chocolate (far too much), and runs a Not-For-Profit organization that works to improve our world through a better understanding of the nature of self and consciousness. He is also a researcher in physics, engineering, and data science at the Johns Hopkins University.
Excerpt from the scene
CHARACTERS
JESSIE
A straightforward, no-nonsense woman who calls things as she sees them.
JAMES
A decent guy, but harboring a strange, unexpressed, and denied discomfort when it comes to Jessie.
SETTING: Pretty much anywhere. Present day.
Note: This play is intended to be performed with British, Monty Python-ish timing.
(JESSIE approaches JAMES in a room or hallway. She has a present – a box with a bright bow on it – in her hands, and puts it down on a nearby table or desk.)
JAMES
What, uh, what you got there?
JESSIE
What does it look like?
JAMES
Hard to say, really.
JESSIE
Hard to say? Haven't you ever seen a present before?
JAMES
Of course I have.
JESSIE
And it didn't look anything like this?
JAMES
Not really.
(Jessie gives him a look.)
The bow was bigger. And blue.
JESSIE
Oh yes, I can see where that would cause a bit of confusion.
JAMES
And what are you, uh, what are you doing with it?
JESSIE
It's for you, actually.
JAMES
Is it?
JESSIE
Yes.
JAMES
For me.
JESSIE
Right.
JAMES
It's not my birthday.
JESSIE
No.
JAMES
Or Christmas. Oh, god, it's not December already, is it?
JESSIE
No, it's not a Christmas gift.
JAMES
Well, what is it then?
JESSIE
I just wanted to do something nice.
JAMES
And this was it, then, was it?
JESSIE
Yes, James. This is it.
JAMES
What, uh, and what is it?
JESSIE
You'll have to open it up to find out. That's the way it works with presents.
JAMES
Can't you just, you know, give me a hint?
JESSIE
Fine. It's something I made.
JAMES
For me?
JESSIE
Yes.
JAMES
You made something
JESSIE
Yes
JAMES
For me?
JESSIE
That's right.
JAMES
With your own hands?
JESSIE
No, I used the vicar's hands.
JAMES
You did?
JESSIE
Yes. And then I had to throw them in the rubbish, because they got all dirty.
Why Subscribe?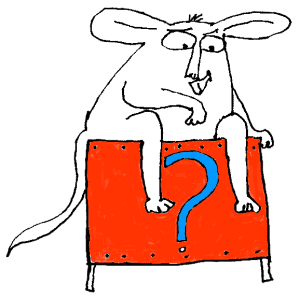 Inside Drama Notebook, you will find a huge collection of well-organized lesson plans, scripts for kids, drama activities, 50 drama games on video and more! Join today and dramatically reduce your planning time while delivering fresh, innovative drama lessons to your students! If you are new to teaching drama, this site will be a Godsend! You will immediately feel confident about teaching drama like an expert. The site guides you step-by-step and provides you with materials that you can use right away with your students.
If you have been teaching for years, Drama Notebook will inspire you with a fresh new approach and innovative ideas!
The site is packed with original, innovative lessons and activities that you will not find anywhere else—and new materials are added monthly.