3-30+ characters, flexible casting. Approximately 5 minutes long. An animal origin story about how the rhinoceros got its wrinkly skin. Based on the Just So Stories by Rudyard Kipling.
Long ago, Rhinoceros was rather rude and had very bad manners. An imaginative origin story of how the rhino got its wrinkly skin, this short play is inspired by one of The Just So Stories by Rudyard Kipling. This is a perfect piece for exploring movement and ensemble work.
There are enough roles in this piece for everyone in your class, and we have four more plays in this series. Perform them one at a time or all together for an entire show-length presentation! Narrators can be "on book" to prompt other cast members.
Suggested Order for Show-Length Presentation:
How the Rhinoceros Got Its Wrinkly Skin
How the Kangaroo Got Its Jump
How the Camel Got Its Hump
How the Whale Got Its Throat
How the Elephant Got Its Trunk
You may also inspire your students to write their own origin stories with our popular Myths Drama Activity.
About the Playwright:
Greg Cummings is a member of Dramatists Guild. His plays are published by Concord Theatricals, Smith and Kraus, Brooklyn, Dominion, and Heuer, and have been produced at regional theatres, colleges, arts centers, high schools, and middle schools in all fifty states, Canada, and England.
Excerpt from the Play:
CHARACTERS
ENSEMBLE transforms into:
PARSEE
RHINOCEROS
PALM TREES
SETTING
The Land of Palm Trees, Near a Beach.
AT RISE: ENSEMBLE, as ELDEST MAGICIANS, enters, with great style, and stands in a line from stage right to stage left.
MAGICIANS
Good evening, O my Best Beloved! We are The Eldest Magicians! MAGICIANS bow. And welcome to our production of: "How the Rhinoceros Got Its Wrinkly-Crinkly Skin", based on one of The Just So Stories by Rudyard Kipling! Ahem! In the High and Far Off Times the Rhinoceros, O My Best Beloved, the Rhinoceros did not have wrinkly-crinkly skin like it does today! No, no, no. Back then its skin was smooth and tight and stylish and fit it like a nice tight jacket. Look, here's one now. A rhinoceros with smooth tight skin, not wrinkly-crinkly skin! Just look at that nice tight coat of skin! Not wrinkly-crinkly at all!
RHINOCEROS
Outa my way! Now!
One MAGICIAN becomes RHINOCEROS and pushes the other MAGICIANS apart and crosses downstage. RHINO wears a well-fitting jacket or sports coat.
RHINO
Well, whaddya think? Look at me! Look at my skin! Just like they said: Not wrinkly-crinkly at all, eh? Smooth? Yep! Tight? Yep! Stylish? Yep! Rhinoceros fashionista? You bet! Watch this! I look most wonderful in this coat! Look at me, I say! Look at me!
Acting like a model, RHINO walks back and forth across the stage like it was a runway.
MAGICIANS
Oh! We forgot to mention: the Rhinoceros was also: very rude!
RHINO
Hey!
MAGICIANS
See? Very bad manners indeed.
RHINO
I'm not rude, I'm stylish! It's just that I obviously look so great in my smooth skin, and it is my belief that everybody should have the chance to see me!! And adore me!
MAGICIANS
Right…
RHINO
Outa my way!
RHINO rudely pushes MAGICIANS aside and stands, hidden, upstage of them.
MAGICIANS
So, how exactly did the Rhinoceros get its wrinkly-crinkly skin? The wrinkly-crinkly skin it has today? Well, once upon a time, O My Best Beloved, in The Land of Palm Trees Near a Beach…
MAGICIANS become PALM TREES and sway.
PALM TREES
…there lived a Parsee.
One MAGICIAN becomes the PARSEE and steps forward. PARSEE holds a mime cake.
PARSEE
The Parsee! That's me!
PALM TREES
And, even though it was always terribly hot in The Land of Palm Trees Near a Beach, the Parsee just loved to bake!
PARSEE holds up a mime cake.
PARSEE
Look, everybody! I baked a cake! I mean, I baked another cake! What am I talking about? Cakes are all I make! Cakes are all I bake! In fact, look: my entire hut is full of cake crumbs all the time because that's the way I like it! A life surrounded by cake and cake crumbs! Cake, cake, cake! Crumbs, crumbs, crumbs! Yum, yum, yum!
PALM TREES
But just as the Parsee is about to take a bite of the latest delicious home-baked cake…
RHINO pushes PALM TREES aside.
RHINO
Outa my way! Is that a cake I smell?!
PARSEE
What?
PALM TREES
See? We told you! This Rhino was rude!
RHINO
That is a cake I smell!
PARSEE
No!
PALM TREES
Bad manners! Very bad manners!
PARSEE
Not my cake!
PALM TREES
Yes, unfortunately, Parsee, your cake,
RHINO and PARSEE act out what PALM TREES narrate…
PALM TREES
Fearing the worst, the Parsee climbed a Palm Tree, just in time, leaving the lovely cake to the mercy of the hungry Rhino, who, of course, being sooo rude, gobbled the cake voraciously!
RHINO
Yum! Argh! Yum!
Why Subscribe?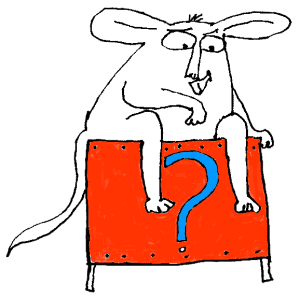 Inside Drama Notebook, you will find a huge collection of well-organized lesson plans, scripts for kids, drama activities, 50 drama games on video and more! Join today and dramatically reduce your planning time while delivering fresh, innovative drama lessons to your students! If you are new to teaching drama, this site will be a Godsend! You will immediately feel confident about teaching drama like an expert. The site guides you step-by-step and provides you with materials that you can use right away with your students.
If you have been teaching for years, Drama Notebook will inspire you with a fresh new approach and innovative ideas!
The site is packed with original, innovative lessons and activities that you will not find anywhere else—and new materials are added monthly.